Butterscotch Toffee Cookie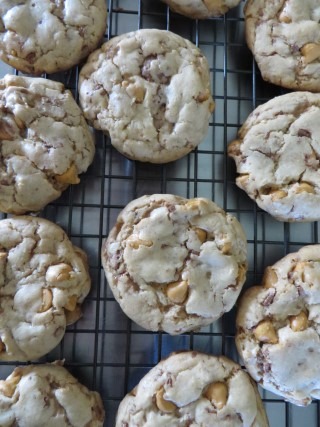 These Cookies are delicious! They won't last very long in the Cookie jar!
Easy to make with the help of a box cake mix, you can whip up a batch in no time! The combination of Butterscotch and Toffee in one Cookie is so delicious.
BUTTERSCOTCH TOFFEE COOKIE 
Ingredients:
1 Box Butter Pecan Cake Mix
1 (10 oz.) Package Butterscotch Chips
1 (8 oz.) Package Milk Chocolate English Toffee Bits
2 Eggs
1/2 Cup Canola Oil
Directions:
1. Preheat oven to 350 degrees.
2. In a large mixing bowl, combine the Eggs and Oil with a hand held mixer on low, until well blended.
3.  Slowly add in the Cake Mix and beat on low speed until combined.
4. Stir in the Butterscotch Chips and Toffee Bits.
5. Lightly spray a cookie sheet with non stick cooking spray.
6. Drop Cookie dough by rounded Tablespoon on to cookie sheet. Spacing them about 2-3 inches apart.
7. Bake for 10-12 minutes or until golden brown.
8. Remove Cookies from oven when done and allow to cool on the cookie sheet for 1 minute before removing them. After 1 minute transfer the Cookies to a wire cookie rack to cool completely.
Recipe by: Hot Dish Homemaker