White Bean Chicken Chili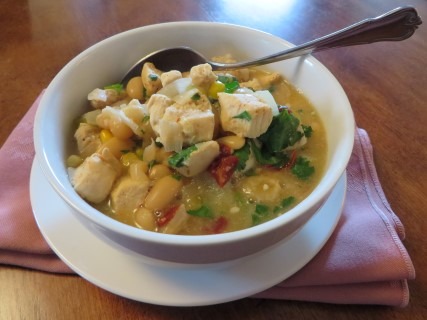 Many of you have been asking for a White Bean Chicken Chili recipe. This one is loaded with flavor and has a bit of Tex Mex influence.
There are a lot of White Bean Chicken Chili recipes out there. It seems like it became the hot item to have on the latest menus. I have tasted many variations of this recipe at restaurants. Some that had ground chicken and almost resembled canned cream of mushroom soup and some that tasted like plain chicken broth. There are many good recipes out there I just wanted to create a version that was healthier and bursting with flavor.
I think most of us think Chili has to be very thick. It really is regional when it comes to the style or presentation of Chili. With this style of Chili, you will find most recipes slightly resemble soup not quite as thin, but not your average stick to your ribs Chili either. If you add too many thickening agents to this recipe, it loses all the great flavors that you want to showcase, unlike its red sauce counterpart. So be open minded and give this one a try.
WHITE BEAN CHICKEN CHILI
Ingredients:
4 Cups Chicken Breast, cut into bite size pieces
2 (15 oz.) Cans Cannellini White Kidney Beans (gluten free), drained
1 Cup Frozen Corn
1 Small Vidalia Onion, diced
1 Tablespoon Garlic, minced
1 (4 oz.) Can Green Chilies
4 Cups Organic Chicken Broth
1/2 Cup Freshly Squeezed Lime Juice
1 Cup Fresh Cilantro, roughly chopped
3 Small Chipotle Peppers, seeded and diced
1 Teaspoon Liquid Smoke
1 & 1/2 Tablespoons Olive Oil
2 Tablespoons Cornstarch
2 Tablespoons Cold Water
1 Tablespoon Mrs Dash Chicken Seasoning
Freshly Ground Black Pepper
1 Teaspoon Liquid Smoke
Directions:
1. In a Dutch oven or large sauce pan, add the Onions, Garlic and 1/2 Tablespoon Olive Oil. Sauté  just until the Onions are translucent.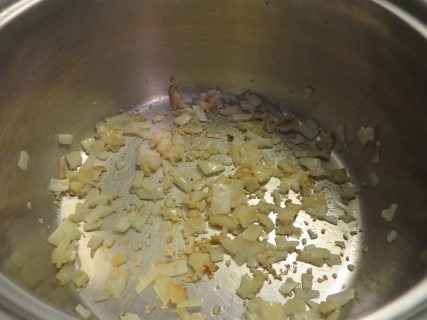 2. Add the remaining 1 Tablespoon Olive Oil to the pan along with the Chicken and Mrs. Dash Chicken Seasoning. Cook on medium/low until the Chicken is just 3/4 of the way done, as you see here. We will be continuing to cook the Chicken in our sauce so we don't want to overdo it at this point.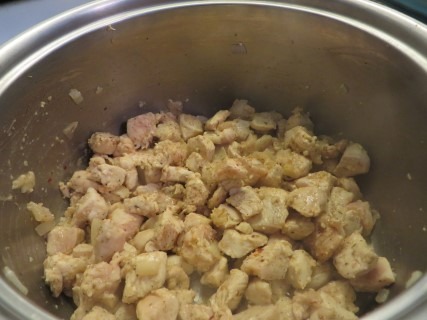 3. Now lets add more ingredients! Add the Chipotle Peppers, Beans, Corn, Green Chilies, Liquid Smoke, Lime Juice, Broth and also give your Pepper Mill a few good turns over all. Stir all together then bring to a boil.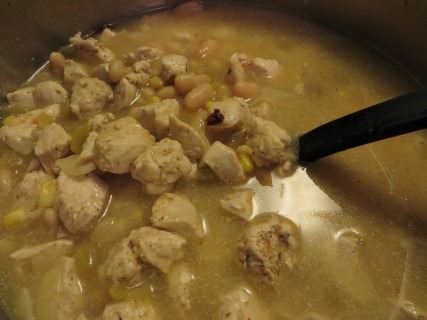 4. Make a slurry with the Cornstarch and Water then quickly add it to the boiling pot. Cook for one minute then reduce the heat to low, cover and simmer the Chili for 20 minutes.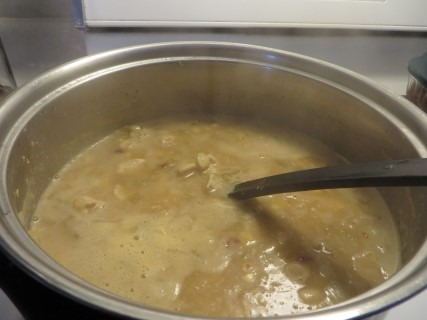 5. Stir the Cilantro and simmer 4-5 minutes longer uncovered. As you see here the Chili has slightly reduced and thickened.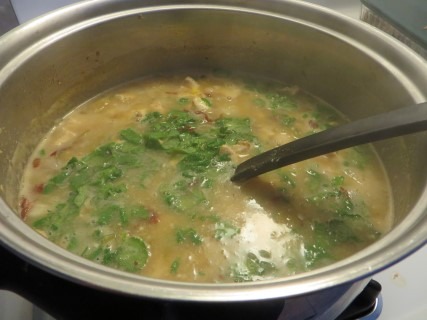 ~Serve this Chili with Shredded White Cheddar Cheese on top and maybe a little Cornbread on the side!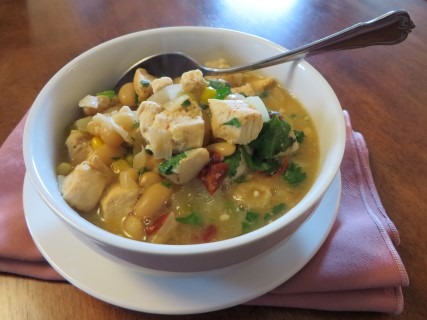 Recipe by: Hot Dish Homemaker