Peppered Beef Tenderloin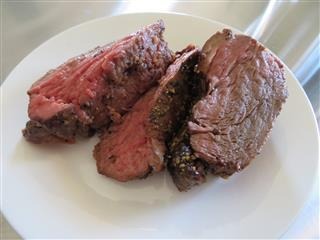 Beef Tenderloin is so delicious but it can be expensive. So when you prepare it, take the time to do it right.
Here are a few tips and a recipe to prepare your Beef Tenderloin.
First you need to prepare your Beef Tenderloin. You need to carefully remove excess fat and any silver skin. Don't overdo it, you don't want to lose any of this great meat! If you are not comfortable with this step, you can ask your butcher to do it for you.
Get yourself a good meat thermometer. Temperature and timing are key to making the perfect Beef Tenderloin.
You are also going to need Kitchen String or Butchers Twine to tie up the Beef Tenderloin.
PEPPERED BEEF TENDERLOIN 
Ingredients:
1 -Four Pound Beef Tenderloin
3 Tablespoons Minced Garlic
Freshly Ground Black Pepper
Olive Oil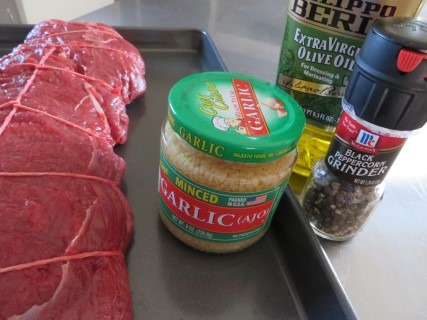 Directions:
1. First things first, you need to remove any silver skin from the Tenderloin. Next, we need to tie up the Beef Tenderloin. This is a technique to ensure the Beef Tenderloin cooks evenly. You don't want one end to be well done and one to be rare. Tenderloins often have an end that is more tapered. All you do is tuck the tapered smaller end under and then use kitchen string also known as butchers twine, to tie the Tenderloin in about 1 inch intervals a you see here.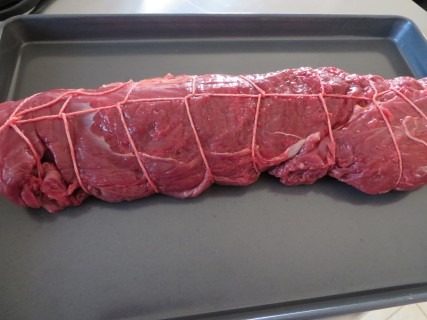 2. Generously rub the Beef Tenderloin with Olive Oil.
4. Next rub the Minced Garlic over the entire Tenderloin. Then generously grind Black Pepper onto the Tenderloin making sure to cover all sides.
5. Wrap the Beef Tenderloin in plastic wrap and refrigerate for 3-4 hours, then remove from refrigerator and let stand at room temperature for about 20-30 minutes.
6. Preheat the oven to 400 degrees.
7. Place the Beef Tenderloin in a shallow baking pan and place in the oven. Roast until the internal temperature reaches 120 degrees. Check the temperature at the 20 minute mark. All ovens cook differently and trust me, you do not want the Tenderloin to be over cooked! After 20 minutes check the temperature every 5 minutes or so. Total cooking time will be approximately 35-40 minutes.
8. When the Tenderloins internal temperature reaches 120 degrees, remove it from the oven and loosely cover the Tenderloin with foil. Allow the meat to rest for about 15 minutes. The beef will continue to cook as it rests, this is why you need to remove it from the oven before it is completely done. This cut is best served at medium rare to get the full juicy flavor of the Beef.
9. Get out a sharp knife and get ready to slice the perfect Beef Tenderloin!
This is a wonderful cut of meat to serve on special occasions. Leftovers also make fabulous gourmet sandwiches!
Recipe by: Hot Dish Homemaker