Irish Soda Bread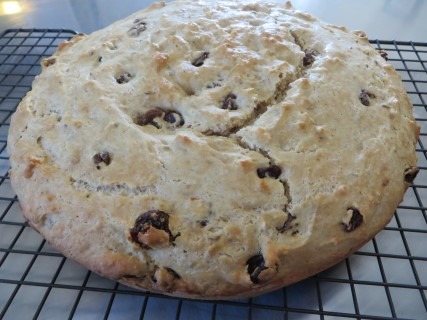 Soda Bread is a classic Irish quick bread.
Soda Bread is made with baking soda instead of yeast.
There are many recipes for this delicious dense Bread. Often it is made with the most basic ingredients but the texture is usually the same.
Over the years recipes started adding herbs or dried fruits to the bread which is not traditional but they pair very well with the basic recipe and enhance the flavor of the bread.
There are many ways to serve this bread. I pair it with my Irish Stew. It is great for breakfast, brunch or even dessert. This bread is also very easy to make because it is a quick bread, no kneading required, so don't be afraid to give it a try.
IRISH SODA BREAD
2 1/2 Cups Flour
1/2 Cup Sugar
1/2 Teaspoon Baking Soda
1 & 1/2 Teaspoons Baking Powder
2 & 1/2 Teaspoons Caraway Seeds
1 Teaspoon Cinnamon
1/2 Teaspoon Salt
3/4 Cup Raisins
1 & 1/4 Cup Buttermilk
2 Eggs
1/4 Cup Unsalted Butter
1 Teaspoon Vanilla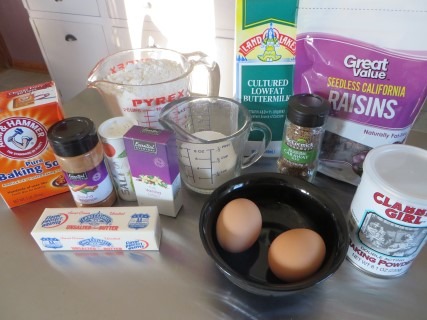 Directions:
1. Preheat oven to 350 degrees. Coat a 9 inch round cake pan with nonstick cooking spray and set aside.
2. Melt the Butter and set it aside to cool slightly.
3. In a large bowl stir together the Flour, Salt, Baking Powder, Baking Soda and Cinnamon. Set aside.
4. In a medium bowl whisk the Eggs and Vanilla. Then whisk in the Buttermilk. Slowly whisk in the slightly cooled Butter. You don't want to add hot melted Butter to the Egg mixture or you will get scrambled eggs.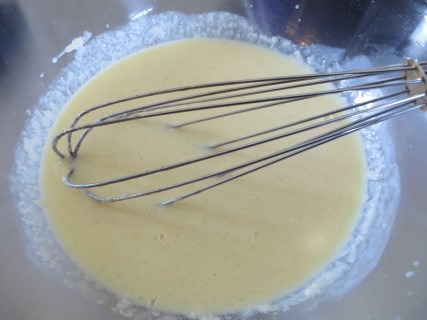 5. Next whisk the Sugar into the Egg Mixture.
6. Using a wooden spoon, slowly stir the Egg mixture into the Flour mixture. Stir well to incorporate all. The mixture will be thick.
7. Stir in the Raisins and Caraway Seeds.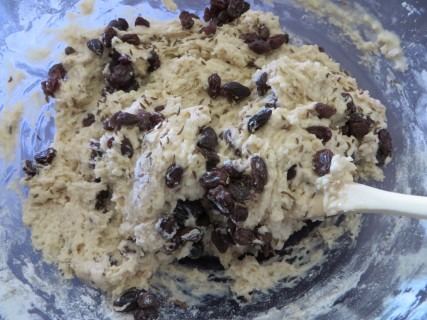 8. Transfer the Dough into the prepared pan.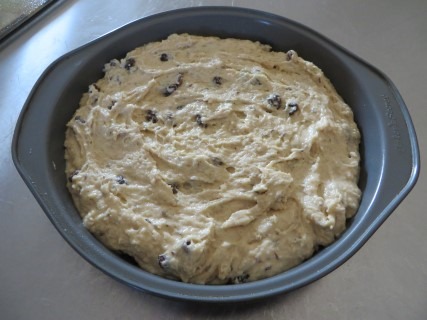 9. Bake in the preheated oven for 40-50 minutes. All ovens cook differently so check your Bread at about the 20 minute mark. We are looking for it to rise slightly and be lightly browned. Also check for doneness by inserting a toothpick in the center, when it comes out clean the Bread is done. It will look like this.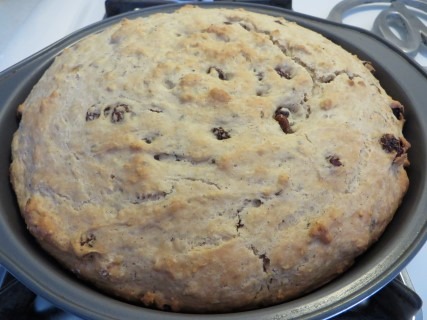 10. Allow the bread to cool for 5-10 minutes in the pan, then transfer to a cooling rack allowing it to cool completely before slicing.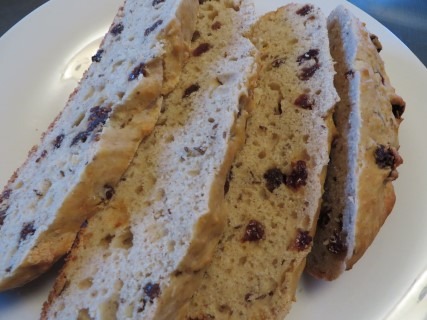 Spread a little Irish Butter on a slice and enjoy!
Recipe by: Hot Dish Homemaker