Homemade Irish Cream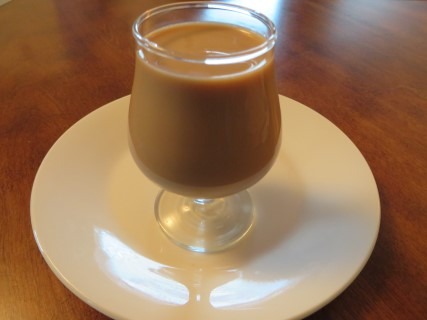 Why not make your own Irish Cream?
It is great served as an after dinner drink or add some to your Coffee or Hot Chocolate. Make extra and bring it as a hostess gift to your next party!
I honestly don't know where I got this recipe from. It is one of those recipes that I scribbled down on a piece of paper and then tucked it in the back of my recipe box. I have had it for about 30 years and I know I have made this several times, mostly around the holidays or winter months. I came across it again, while looking for another oldie but goodie recipe. So I thought I would pull it of the old recipe box, make a few changes to it, and put it on my blog to share.
HOMEMADE IRISH CREAM
INGREDIENTS:
1 Cup Heavy Cream
1 (14 oz.) Can Sweetened Condensed Milk
2 Tablespoons Chocolate Syrup
1 & 2/3 Cups Irish Whiskey (I used Jameson)
1 Teaspoon Instant Coffee Granules
1 Teaspoon Vanilla Extract
1/4 Teaspoon Almond Extract
Directions:
1. Blend all ingredients in your blender, except the Whiskey, until smooth and creamy.
2. Slowly add the Whiskey to the mixture and blend on low until well combined.
3. Store in a tightly sealed container in the refrigerator. Use a glass jar rather than plastic.
4. Shake well before serving.
And there you have it! Irish Cream!
~ You can store this in your refrigerator for about 2-3 weeks.
Cheers!
Recipe by: Hot Dish Homemaker