Hawaiian Wild Rice Chicken Salad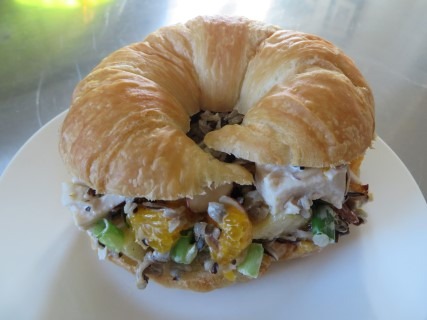 This Salad is bursting with flavors. Serve it on a Croissant to make a nice luncheon sandwich.
I am from Minnesota and Wild Rice is known as the State Grain. It actually isn't rice. It is an annual water-grass seed. It loves the cold waters in the rivers and lakes in Minnesota and actually was a staple for Chippewa and Sioux Indians. Wild Rice is regulated and still is harvested in traditional Indian ways.
If you have never tried Wild Rice, you must! It has the texture of Rice yet is slightly more earthy. It is often served during Thanksgiving but is widely used in many dishes that standard white Rice would be used in.
September is usually the harvest time for Wild Rice but it is packaged and processed and available all year round.
HAWAIIAN WILD RICE CHICKEN SALAD
Ingredients:
4 Cups Wild Rice, cooked and cooled
4 Cups Chicken, cooked and cut into bite size pieces
1 & 1/2 Cups Pineapple, cut into bite size pieces
1 & 1/2 Cups Mandarin Oranges, cut into bite size pieces
1 Cup Green Onions, diced
1/2 Cup Sliced Almonds
1 Cup Mayonnaise
1/4 Cup Almond Coconut Milk
Freshly Ground Black Pepper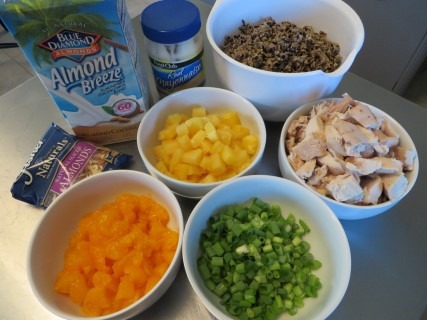 Directions:
1. In a small bowl whisk together the Almond Coconut Milk and the Mayonnaise to make the dressing. Set aside.
2. In a large mixing bowl combine the Wild Rice, Chicken, Pineapple, Mandarin Oranges, Almonds and Green Onions.
3. Pour the Dressing over all. Give the old Pepper mill a few turns over all. Fold all the ingredients together.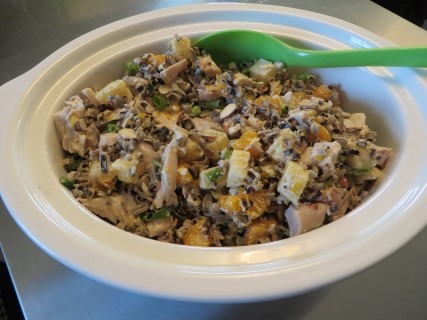 4. Cover and refrigerate for about an hour to chill and allow the flavors to marry. Stir again prior to serving.
~I like to serve this Salad on a nice bakery Croissant, but it is wonderful simply on its own! This recipe makes a very large bowl, enough to feed at least 8.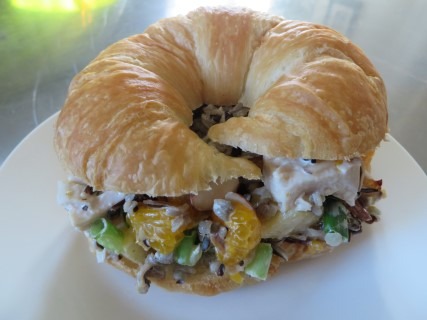 Recipe by: Hot Dish Homemaker