Hawaiian Ham Balls Recipe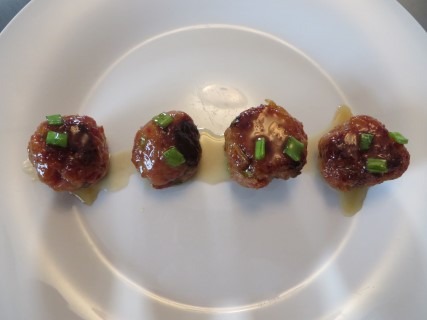 Have you ever used Ham to make meatballs? These little Hawaiian Ham Balls are delicious.
If you have leftover Ham, this is a good recipe to use it in. You don't need a meat grinder to create Ground Ham. You can put the Ham in a blender or food processor. I actually use an electric mini food chopper that my mother in law gave me. It works great. It kind of looks like a mini food processor but takes up much less room! Just be sure to cut your Ham in small pieces before putting them in the blender or food processor and work in small batches.
HAWAIIAN HAM BALLS 
Ingredients:
6 Cups Ground Ham
3 Eggs
2 Cups Pineapple Juice
1 & 1/8 Cup Green Onions, diced
1 Cup Crushed Pineapple
1 Cup Bread Crumbs
1 Cup Brown Sugar, packed
2 Teaspoons Dry Ground Mustard
1 Tablespoon Corn Starch
Directions:
1. Preheat oven to 350 degrees.
2. In a large bowl, combine the Ground Ham, 1 Cup of the Pineapple Juice, Eggs, Crushed Pineapple, 1 Cup of the Green Onions and the Bread Crumbs.
3. Shape mixture into 2 inch Balls. You should get about 50 meatballs.
4. Spray two, 9 x 13 baking pans with non stick cooking spray. Put the Ham Balls in the pans and bake for 1 hour.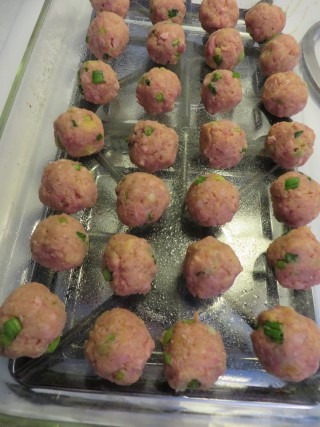 5. While the Ham Balls are baking, you can make the Glaze. In a small saucepan, combine the Brown Sugar, Ground Mustard, Cornstarch, 1 Cup of the Pineapple Juice and 1/8 Cup of the Green Onions. Cook and stir over medium/high heat until the sauce comes to a boil. Remove from heat and set aside.
6. Take the Ham Balls out of the oven and using a spoon, drizzle the Glaze evenly over all the Ham Balls. Return to the oven for an additional half an hour.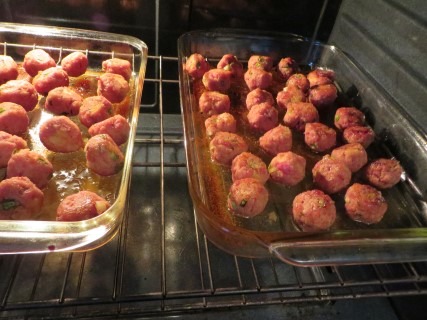 Recipe by: Hot Dish Homemaker