Chicken Tomato Rice Soup Recipe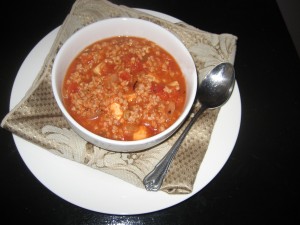 Nothing better than homemade Soup on a cold day!
Make this in your slow cooker and serve it with a side salad and rustic bread.
CHICKEN TOMATO RICE SOUP RECIPE
Ingredients:
4 Large Boneless Skinless Chicken Breasts, cut into 1 inch cubes
1 Can (46 oz.) V-8 Tomato Juice
1 Medium Onion, diced and sautéed
1 Tablespoon Olive Oil
2 (14.5 oz.) Cans Diced Tomatoes, with liquid
1 Roasted Red Pepper, diced
2 Tablespoons Montreal Chicken Spice
3 Tablespoons Freshly Ground Black Pepper
4 Cups Cooked Rice
Directions:
1. In a medium skillet sauté the Onions in the Olive Oil until tender. Then add them to the slow cooker.
2. Next add the Tomato Juice, Chicken, Roasted Red Pepper, Canned Tomatoes, Montreal Chicken Spice and Pepper to the slow cooker and stir all ingredients together.
3. Set the slow cooker on low for 4-6 hours. Continue to stir the Soup as it cooks every hour or so. The newer slow cookers cook differently than the older models so look for the soup to be bubbly-not boiling and the Chicken to be cooked.
4. When the Soup is done, stir in the cooked Rice and continue to cook for another 15-20 minutes.
Recipe By: Hot Dish Homemaker