Caprese Kabobs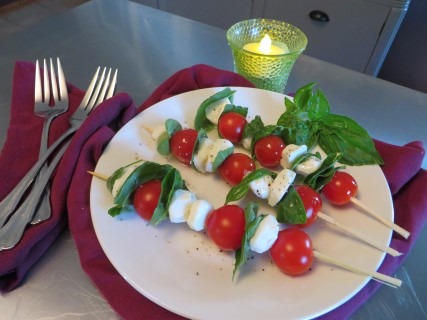 If you love Caprese Salad, then you will love Caprese Kabobs!
Caprese Kabobs are a wonderful appetizer. I used fresh Cherry Tomatoes and fresh Basil from my garden. If you don't have a garden, go to your local farmers market. Fresh in season Tomatoes and Basil work best in this recipe.
I paired these Caprese Kabobs with grilled Beef Steak Kabobs and grilled Garlic Bread. It was a mouthwatering meal on skewers!
Caprese Salad originated in Italy. It was created to resemble the colors of the Italian flag. Just a few ingredients but such big bold flavor.
CAPRESE KABOBS
Ingredients:
1 large bunch Fresh Basil
1 Pint Cherry Tomatoes
1 package Fresh Mozzerella Pearls
Olive Oil, for drizzling
Fresh Ground Black Pepper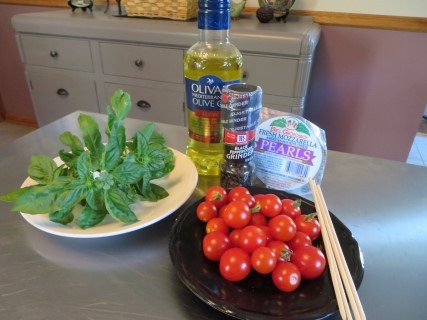 Directions:
1. First you are going to need 8-10 skewers. Use a 6 or 8 inch length skewer.
2. Start with a Cherry Tomato on each skewer then alternate with the Fresh Mozzarella Pearls and the Basil. For the smaller Basil leaves, I suggest you use two together and for the larger leaves, you may want to fold them before sliding them onto the skewer.
3. Once you have all the skewers prepared, place them on a tray and drizzle them with a generous amount of Olive Oil.
4. The final touch is to give your Pepper mill a few good turns over the skewers. Transfer the skewers to your serving tray and enjoy!
Recipe by: Hot Dish Homemaker