Apple Strawberry Applesauce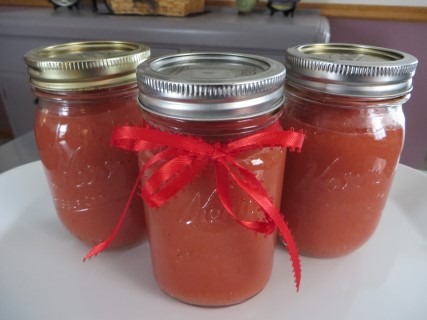 Applesauce is quite easy to make and homemade Applesauce tastes so much better than the stuff in those plastic cups.
Make Applesauce for a dessert, a side dish or even a snack, anyway you serve it, people simply love Applesauce.
Have you ever thought of making Applesauce and putting it in an old fashioned mason jar and giving it as a hostess gift? Just add a bow or some raffia. Perhaps put several small jars of the Applesauce in a cute wicker basket.
If you have Apple trees in your yard, you no doubt have a lot of Apples that you need to incorporate into recipes.
When selecting Apples for Applesauce, an "all purpose" Apple works best.  I used Braeburn Apples in my recipe this time. You could use Red Delicious,  Jonathon, Mcintosh, Rome or Fuji Apples. Your market should have a chart which will give you a description of the Apples texture and flavor and what they work best for. By all means if you don't see one ask the produce manager for information. If you are getting Apples at the Farmers Market or Apple Orchard, they usually have a print out giving you descriptions of their Apples.
In this Recipe I added Strawberries. They add another flavor level and pair so well with Apples. By turning them both into a puree, their texture becomes the same, and a wonderful flavor combination is born. The Strawberries add color and natural sweetness to the Sauce.
Here is my Recipe:
STRAWBERRY APPLE APPLESAUCE
Ingredients:
8 Cups Apples, peeled-cored and sliced
1 Pound Strawberries, cut in half
3 Tablespoons Cinnamon Imperial Candies
1 Cup Water
1/2 Cup Sugar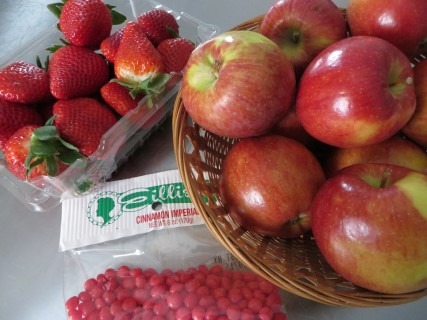 Directions:
1. Place all of the ingredients into a large pot and give them a good stir.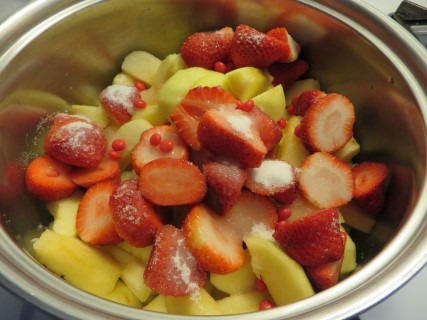 2. Place the pot on the stove top and Bring the Apple mixture to a boil. Reduce the heat to medium/low and continue to cook until the Apples are tender, about 20-30minutes. Check the Apples every 10 minutes to test for tenderness and to give the mixture a stir so everything starts to combine.
3. When the Apples are tender and everything is combined, get out your potato masher and mash the Apples and Strawberries together.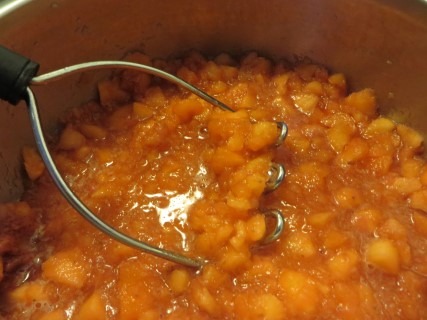 4. If you like chunky Applesauce you can stop here. If you want the traditional puree style Applesauce, then we need to put the Applesauce into a food processor or blender. Let the Sauce cool slightly then work in small batches. Laddle the Applesauce into your food processor or blender and use the puree setting or pulse just to break up the larger chunks of the Apples and to ensure everything is well combined.
5. Pour the Applesauce into jars or into a glass bowl and allow to cool to room temperature before covering. Then refrigerate your Applesauce. It should keep for a 7-10 days in the refrigerator, in a tightly sealed container.
Recipe by: Hot Dish Homemaker