Almond Joy Brownie Bars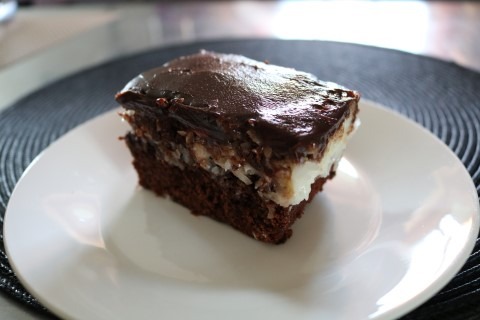 If you love the candy bar you will love these Brownie Bars.
My Fathers favorite candy bar was Almond Joy. Funny, because my Father- in- law also loves Almond Joys. So I decided to come up with this recipe for Fathers day. Made a batch for my adopted Dad as well.
With the help of a Duncan Hines Brownie mix, these are a cinch to make. These are oh so ooey gooey and decadent! They definitely got a big thumbs up from all who tried them!
ALMOND JOY BROWNIE BARS
Ingredients:
1 (family size) Duncan Hines Chewy Fudge Brownie Mix
1 (14 oz.) Can Sweetened Condensed Milk
4 Cups Sweetened Flaked Coconut
1 (6 oz.) Bag Whole Natural Almonds
1/2 Cup Heavy Whipping Cream
1 & 1/2 Tablespoons Unsalted Butter
1 & 1/4 Cups Semi Sweet Chocolate Chips
1 Cup Powdered Sugar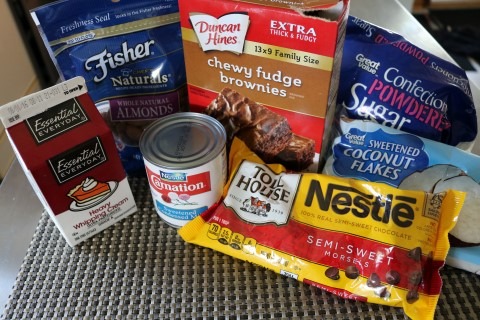 Directions:
1. Make Brownies according to directions for the cake style Brownie for an 8 x 8 pan.
2. Allow Brownies to cool.
3. In a large mixing bowl add the Sweetened Condensed Milk and Powdered Sugar. Using a hand mixer combine until smooth. Stir in the Coconut.
4. Spread mixture on top of the cooled Brownies.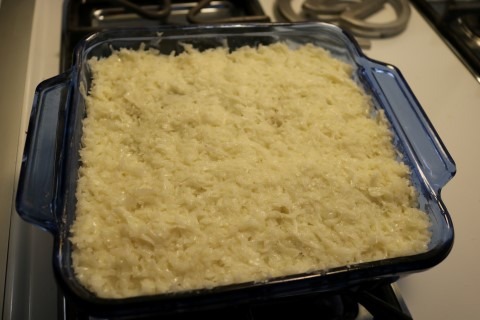 5. Layer the Almonds on top of the Coconut mixture as you see here.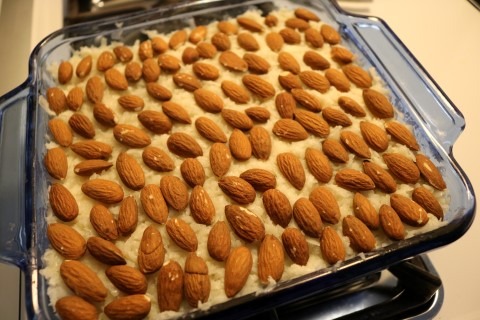 6. In a medium saucepan over low heat, add the Heavy Cream, Butter and Chocolate Chips. Continually stir until the Chocolate Chips are melted and the ingredients come together.
7. Let the Chocolate mixture cool slightly then pour over the Almond layer.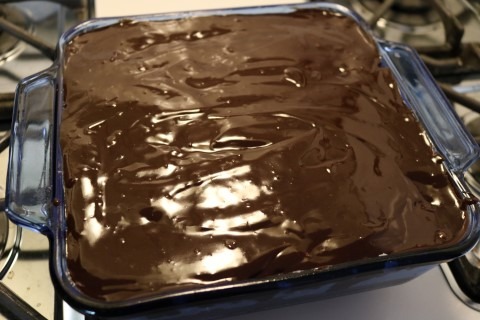 8. Cover and refrigerate until the Bars are set, which will take 2-3 hours. Be careful when you cover them. The pan is pretty full and you don't want to lose your topping by having it stick to plastic wrap. I simply put a cake dome over mine until they were set. Then I removed the cake dome and then switched to using foil to cover them for easy transport.  You can see here they do set up quite nicely.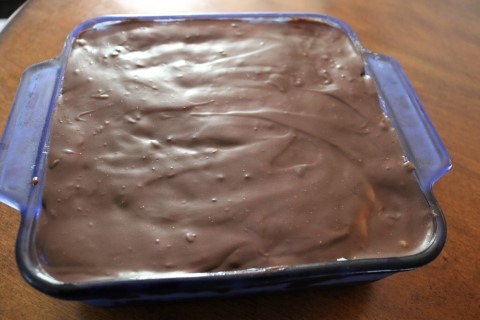 9. Slice into Bars and serve. They won't last long!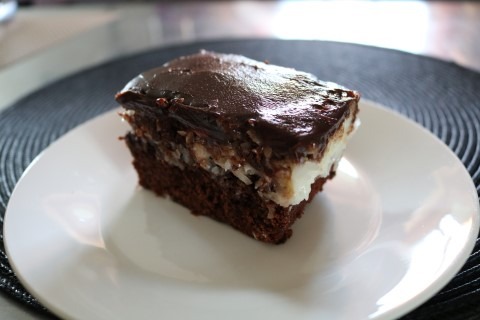 Recipe By: Hot Dish Homemaker