Rustic Beer Bread With Cheddar Garlic Spread Recipe
This is an easy Recipe for Rustic Beer Bread. Only takes a few minutes to prepare the ingredients and the smell of Bread baking in the oven is fantastic!
Make this for an Appetizer and serve it with the Cheddar Garlic Spread or serve it along side a nice bowl of chili or stew. Make a couple of loaves to serve when watching the next big game. I know when I did, there weren't any leftovers!
So what kind of Beer should you use? Actually,  any Beer will do. Keep in mind a darker, heavier Beer will in turn change the Beer Bread to be darker and have a stronger Beer flavor. I used Newcastle Beer in my recipe since it is my husbands favorite Beer.
RUSTIC BEER BREAD WITH CHEDDAR GARLIC SPREAD RECIPE
Beer Bread Ingredients:
3 Cups Flour
4 Teaspoons Baking Powder
1/4 Cup Brown Sugar
12 Ounces Beer (I used New Castle, but any Beer will do)
1/2 Teaspoon Salt
3 Tablespoons Melted Butter
Cheddar Garlic Spread Ingredients:
8 Ounces Cream Cheese, softened
5 Tablespoons Melted Butter
2 Teaspoons Garlic Powder
1/2 Teaspoon Honey
1/2 Cup Sharp Cheddar Cheese, shredded
Beer Bread Directions:
1. Preheat oven to 375 degrees. Spray a 9 x 5 loaf pan with baking spray and set aside.
2. Mix together the Flour, Salt and Baking Powder with a fork.
3. Add the Brown Sugar and stir together well.
4. Pour the Beer in the bowl with the dry ingredients and mix with a hand mixer until all ingredients are combined.
5. Spoon the Beer Bread batter into the prepared pan.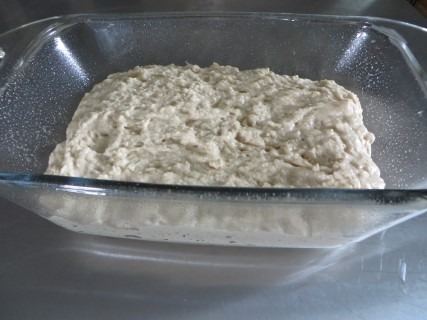 6. Pour the melted Butter right over the Beer Bread Dough.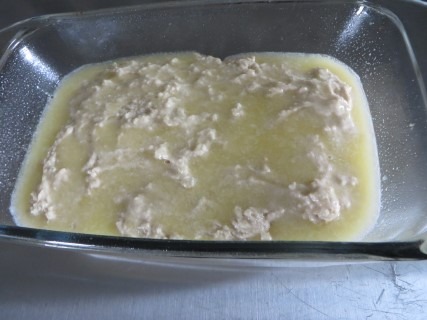 7. Bake the Beer Bread for 45-55 minutes. You are looking for the Beer Bread to rise and have a nice golden brown color on the Beer Bread.
8. Let the Beer Bread cool in the pan for 10-15 minutes then transfer the Beer Bread to a cooling rack to completely cool.
~ While the Beer Bread is cooling you can make the Cheddar Garlic Spread
Cheddar Garlic Spread Directions:
1. In a medium mixing bowl, blend the Cream Cheese and Butter with a hand mixer until smooth.
2. Add the Garlic Powder and Honey. Mix together well.
3. Now add the Cheddar Cheese and mix for an additional 2 minutes to blend together all the flavors.
4. Scoop the Cheddar Garlic Spread into a serving bowl or individual ramekins.
Recipe by: Hot Dish Homemaker