White Chicken Sloppy Joes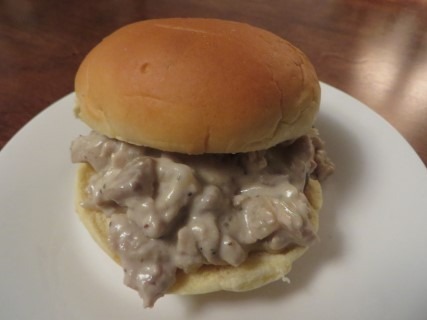 Try a new twist on your traditional Sloppy Joe Recipe. Make this one with Ground Chicken and a White Sauce.
There are so many variations to Sloppy Joes made with red sauce. Everyone has their family recipe and it is most likely not like your neighbors or cousins Recipe. That is, in my opinion, a good thing.
Sloppy Joes are inexpensive to make and are great to serve for a big casual gathering. With that said, we may see them on the buffet a little too often but since most everyone has a different Recipe twist, we can appreciate seeing them on the menu and comparing recipes and their secret ingredients.
This Recipe is simple, as most Sloppy Joe Recipes are. And yes, they are sloppy!
WHITE CHICKEN SLOPPY JOES 
Ingredients:
1 Pound Ground Chicken
1 Small White or Yellow Onion, diced
1 Cup White Button Mushrooms, diced
1/4 Cup Sour Cream
1 Can (10 & 1/2 Ounce) Can Cream Of Mushroom Soup
2 Tablespoons Worceteshire Sauce
1 Teaspoon Celery Salt
1 & 1/2 Cups Extra Sharp White Cheddar Cheese, shredded
1 Tablespoon Olive Oil
Freshly Ground Black Pepper
Directions:
1. Sauté the Onion in the Olive Oil in a large frying pan over medium/low heat until translucent.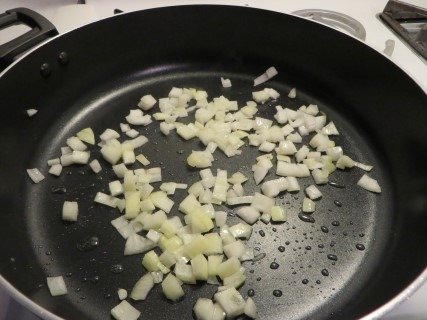 2. Add the Ground Chicken to the pan and brown it. Browning means we are removing some of the fat and partially cooking the meat.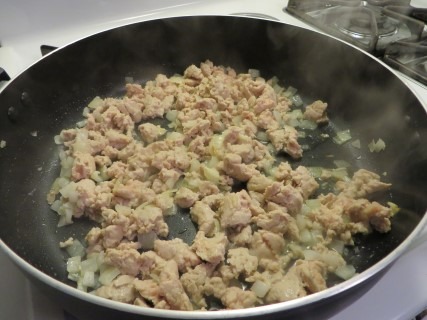 3. Drain any fat from the pan and add the Mushrooms. Cook and stir for 3-4 minutes until the Mushrooms begin to release their moisture.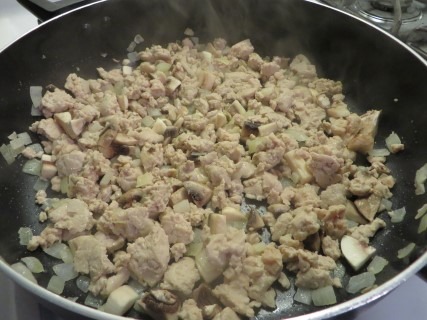 4. In a small bowl whisk together the Cream of Mushroom Soup and the Sour Cream.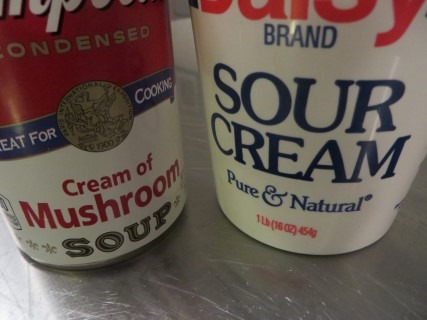 5. Add the Cream of Mushroom Soup mixture, Celery Salt, Worcestershire Sauce and Pepper to the pan. Stir well with a spatula to combine all the ingredients. Increase the heat to high and bring to a soft boil then immediately reduce the heat to simmer.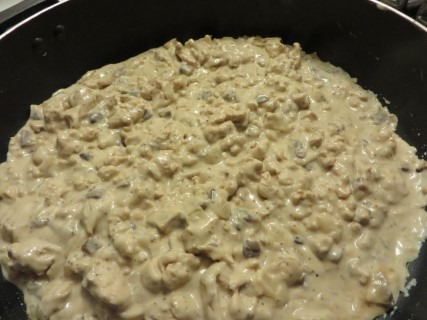 6. Continue to cook the Sloppy Joe mixture for about 10-12 minutes until the sauce is thick and the Ground chicken is done. Then add in the Cheese and continue to stir and cook until the Cheese has melted and incorporated into the mixture. The Cheese gives our Sloppy Joes a bit of ooey gooey goodness!
~Serve on a nice Sour Dough or White Bakery Bun. Be forewarned, they are sloppy, as they should be!
Recipe by: Hot Dish Homemaker