Virginia Ham Poppy Seed Sandwiches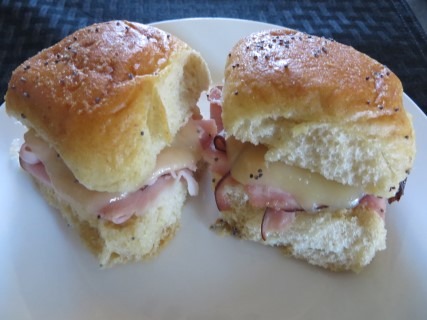 You more than likely have seen this recipe many times in various versions.
They are also known as "Funeral Sandwiches". It was named so because you make these in advance and put them in the refrigerator, then take them out and bake them. It was convenient to serve these at family gatherings after a Funeral or Memorial service.
I like to call my version Virginia Ham with Poppy Seed Sandwiches, instead. They are always a favorite and go fast whenever you make them.
No need for toppings with this one, just bake and serve!
VIRGINIA HAM POPPY SEED SANDWICHES 
Ingredients:
2 Packages Sweet Hawaiian Dinner Rolls (12 count)
2 Pounds Virginia Ham (from the deli)
12 Slices Swiss Cheese
1 Stick Butter plus 2 Tablespoons
2 Teaspoons Worcestershire
1 Teaspoon Garlic Powder
1 Teaspoon Onion Powder
1 Teaspoon Poppy Seeds, plus more for top
Directions:
1. Separate and place the bottoms only of Rolls in two 9 x 13 pans (12 rolls in each pan)
2. Place Ham on top of the Roll bottoms. About 1 and 1/2 slices on each Roll
3. Cut the Swiss Cheese Slices into 4 pieces and place 2 pieces each, on top of the Ham
4. Now place the Dinner Roll tops on the Sandwiches
5. In a saucepan, combine the Butter, Worcestershire, Onion Powder, Garlic Powder and Poppy Seeds over low heat until the butter melts
6. Brush the Butter mixture over all the Ham Sandwiches then sprinkle with a little extra Poppy Seeds as you see here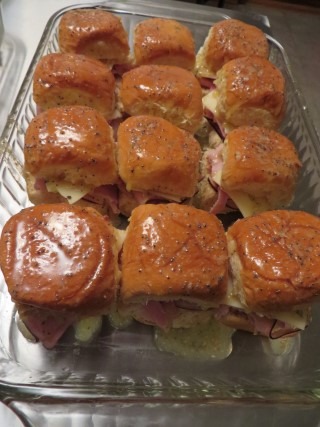 7. Cover the 2 pans of Sandwiches tightly with foil and put in the refrigerator for at least 2 hours or overnight
8. When ready to cook, preheat oven to 375 degrees and bake the Sandwiches uncovered for 15 minutes or until the cheese is melted
~These Sandwiches are great served warm or at room temperature. If you have never had them before, give them a try!
Recipe by: Hot Dish Homemaker