Turkey Brine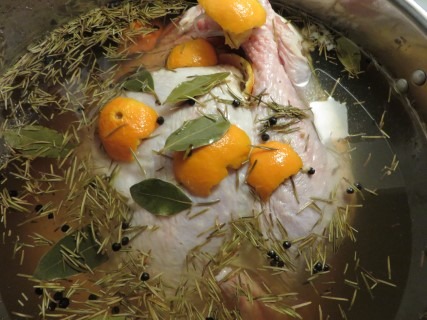 Brining your Turkey helps to lock in the Turkey's natural juices so it doesn't dry out as much when cooking.
Brining can add wonderful notes of flavor to the already savory meat.
Several years ago I decided to Brine my Turkey prior to roasting and I came up with this recipe for Brine. It made all the difference in the world as far as taste and the Turkey was unbelievably moist. I always Brine Turkey now prior to roasting.
If you have never brined a Turkey before, give this recipe a try!
TURKEY BRINE 
Ingredients:
2 & 1/2 Cups Apple Cider
2 Gallons Cold Water
2/3 Cup Fresh Rosemary, removed from stems
5 Cloves of Garlic Minced
 1 & 1/2 Cups Kosher Salt
1/2  Cup Brown Sugar
1 Cup Sugar
3 Tablespoons Peppercorns
5 Whole Bay Leaves
Peel and Juice from 3 Oranges
Directions:
1. Combine all ingredients in a large stock pot.  Over medium heat, stir until Salt and Sugars dissolve, then bring to a boil. Remove from heat and cover the pot.
2. Allow the Brine to cool completely. This may take several hours. We are in essence steeping all of our ingredients to marry the flavors and prepare for our Turkey to bathe in! Once completely cooled, pour the Brine into a large brining bag or leave in the large stock pot, provided there is enough room for the Turkey.
3. Place uncooked, thawed Turkey in the Brine. Refrigerate overnight or up to 14 hours.
You don't want to over brine your Turkey. Just as you don't want to overcook your Turkey.
4. When ready to roast your Turkey, remove it from the Brine. Rinse the Turkey in cold water.
5. Allow the water to run for about 10 minutes over the Turkey, in your sink, to remove excess Salt from the outside.
6. Give your Turkey a pat dry and you are ready to begin the roasting process!
Recipe By: Hot Dish Homemaker