Three Pepper Chili
This Chili is loaded with Peppers and they really make this Chili zing! 
I decided to use three different types of Peppers in this Chili recipe. I have a few different Chili recipes because I don't always like to make the same version. It is nearing the end of our growing season here in Minnesota and I have a lot of Peppers that I needed to use up before we must say goodbye to our plants for the season. Yep, I indeed came up with yet another version of Chili. We are going to be cooking this in a slow cooker. I find cooking it slow enhances the flavors.
Peppers are so good for you. Full of Vitamins A and C and capsaicin. You will definitely find many health benefits from eating Peppers. So if you love Peppers, you are gonna love this Chili!
THREE PEPPER CHILI RECIPE
Ingredients:
8-9 Biker Billy Peppers or Hot Jalapeno Peppers
1 Large Green Pepper or 2 small, diced
1 (16 oz.) Jar Roasted Red Peppers
1 Sweet Onion, diced
1 Pound Ground Chicken, Turkey or Beef (I used chix in this recipe)
1 (28 oz.) Can Diced Tomatoes in Juice
1 (29 oz.) Can Tomato Puree
1 Tablespoon Minced Garlic
1 Teaspoon Cinnamon
4 Tablespoons Chili Powder
Freshly Ground Black Pepper
Directions:
1. Add the Onion and 1/2 Tablespoon of Olive Oil to a large skillet. Cook until they start to get translucent. Remove them from the pan and transfer them to your slow cooker.
2. Add the Ground meat to the same pan and brown the meat then transfer to the slow cooker.
3. Add the Tomato Puree, Green Peppers and Diced Tomatoes to the slow cooker.
4. Drain the Roasted Red Peppers and dice them up. Throw them in the slow cooker.
5. Remove the stems from the Biker Billy Peppers then dice them up including the seeds and add them to the slow cooker. The seeds give it the heat so if you want it a little less hot you can leave out some of the seeds. Here is a picture of the size of my Peppers. If yours are larger you may want to use less.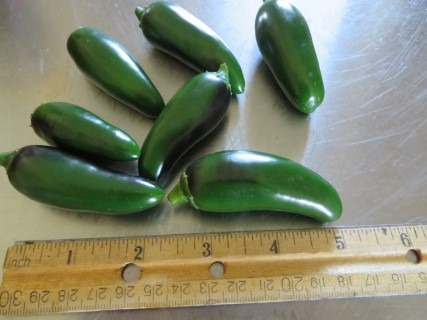 6. Now add the Garlic, Chili Powder and Cinnamon to the slow cooker. Give your Pepper mill a few good turns over all the ingredients in the slow cooker as well. Give everything a good stir.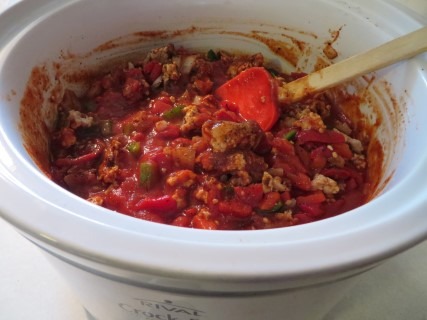 7. Set the slow cooker on low and cook for approximately 8 hours. All slow cookers are different especially the new ones which tend to cook at a higher temp so stir and check your Chili every hour or so. You want it to be rich and thick and for the Peppers to be tender.
Serve this with a bit of shredded cheese to go on top or a dollop of sour cream and a few chopped green onions. Add a crusty bread or a few crackers and you have a nice hearty meal!
Store leftover Chili in the refrigerator for up to 3 days or you can freeze it. I love to make a big batch then freeze several containers to thaw and serve on a cold rainy or snowy day. Nice hot Chili really warms your tummy!
Recipe by: Hot Dish Homemaker