Taco Pasta Salad Recipe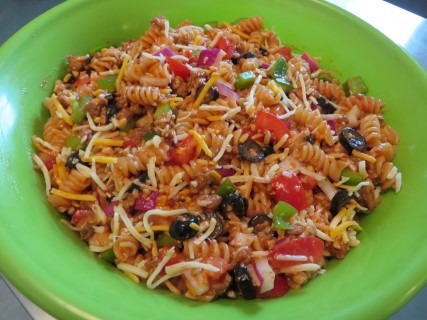 Put a twist on Taco Salad and make Taco PASTA Salad.
What a colorful dish! If you love Tacos you will love this Pasta Salad. Serve it with Tortilla Chips and it will be a crowd pleaser.
This is great for a buffet or a picnic because there is no mayo in the recipe or lettuce to wilt.
So easy to prepare and great to serve to a crowd. Think about using it for a game day recipe or bring it to your next barbecue or pot luck. You can even make this a few hours ahead of time. Just refrigerate and give it a stir and you are ready to serve!
TACO PASTA SALAD
Ingredients:
1 Pound Ground Turkey
1 Package Taco Seasoning Mix
3/4 Cup Water
1 (16 oz.) Package Spiral Pasta
2-3 Medium Tomatoes, diced
1 Medium Red Onion, diced
1 Large Green Pepper, diced
2 (2.25 oz.) Cans Sliced Black Olives with Jalapenos, drained
1 (16 oz.) Bottle Catalina Dressing
2 Cups Taco/Mexican Cheese Blend, shredded (if you can't find Taco Blend substitute Cheddar)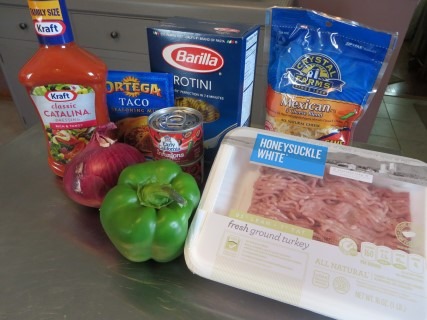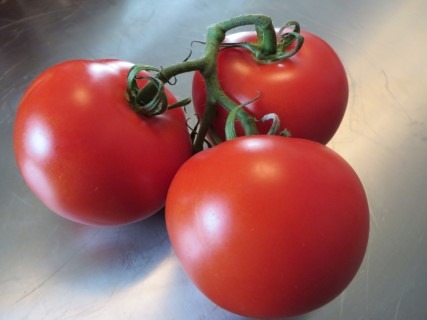 Directions:
1. Brown the Ground Turkey in a large sauté pan then drain any fat.
2. Pour the dry Taco Seasoning Mix over the Turkey and stir well. Then add the water to the pan. Continue to cook and stir over low heat until the sauce thickens and the Turkey is cooked and no longer pink. Set aside and allow to cool.
3. Cook the Pasta according to the package directions, then rinse in cold water in a strainer and allow the pasta to cool.
4. In a large bowl combine the Green Pepper, Onion, Olives, Pasta, Tomatoes and the Ground Turkey.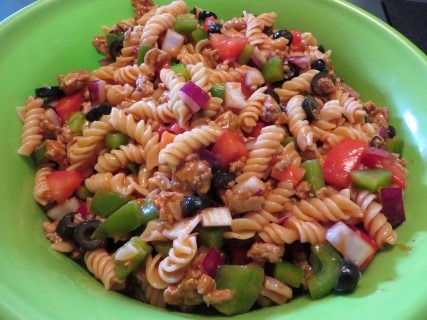 5. Carefully Fold in the Catalina Dressing and Taco Blend Cheese.
6. Cover with plastic wrap and refrigerate at least an hour to allow all the flavors to marry.
7. Stir the Taco Pasta Salad well before serving.
~Serve this with Tortilla Chips on the side. It won't last long!
Recipe by: Hot Dish Homemaker