Spinach Salad With Warm Bacon Dressing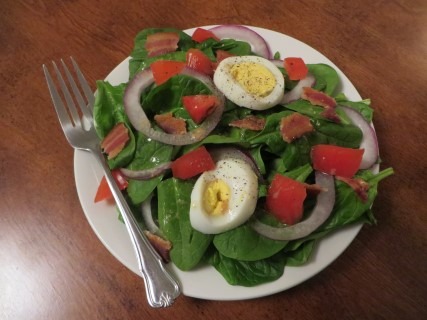 Spinach Salad is an American Tradition. You definitely have to include Bacon and Hard Boiled Eggs.
So whenever you refer to Spinach does Popeye The Sailor Man come to mind? Funny how a comic strip and cartoon character from so long ago can still be associated with food. Depending on your age, we were all told that if we ate our Spinach we would grow up to be big and strong like Popeye. I didn't really like Spinach as a child. Of course it was popular to purchase it in a can verses fresh back in the day, maybe that is why I didn't care for it. I even recall seeing Popeye's image on one particular brand. I bet you now have the "Popeye The Sailor Man" song running through your head don't you?
Enough about Popeye and back to Spinach! Spinach is packed with nutrients. It is one of the great greens to add into your diet.
This Salad is great on it's own for lunch or pair it with a great steak or grilled salmon for dinner. It is simple to make and is very colorful and full of flavor.
SPINACH SALAD WITH WARM BACON DRESSING
Ingredients:
8 Ounces Fresh Spinach
8 Pieces Bacon
2 Hard Boiled Eggs, sliced
4-5 Slices Red Onion, thinly sliced
1 Small Tomato, diced
4 Tablespoons Red Wine Vinegar
1 Teaspoon White Sugar
1 Teaspoon Dijon Mustard
Freshly Ground Black Pepper
Directions:
1. Cook Bacon and reserve the Bacon drippings and any bits on the bottom of the pan. Transfer the Bacon to a paper towel and allow to cool.
2. Place the Spinach Leaves on 4 salad plates and top with Tomatoes, Hard Boiled Egg Slices and the Red Onion Rings. Cut or tear the Bacon into bite size pieces and add to the top of the Salads.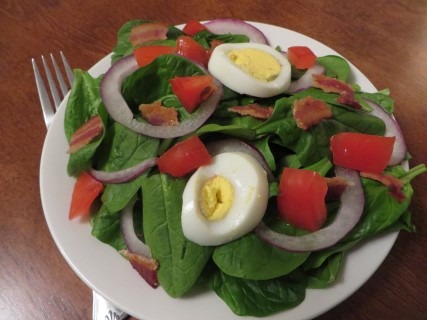 3. Pour the Bacon Drippings into a small saucepan and whisk in the Red Wine Vinegar, Sugar and the Dijon Mustard. Cook over low heat and continue to whisk until well combined.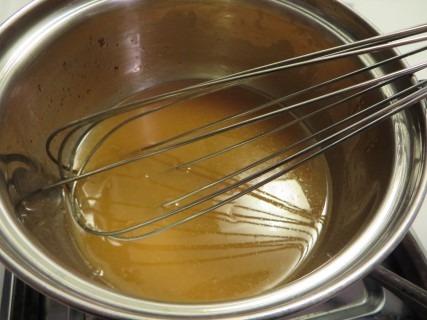 4. Drizzle the warm Dressing over the Spinach Salads then give your Pepper Mill a few twists over each Salad.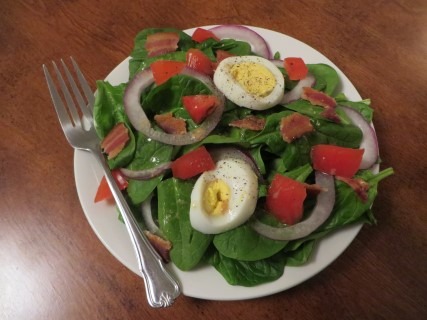 ~Serve immediately.
Recipe by: Hot Dish Homemaker