Smoked Salmon Cucumber Cups Appetizer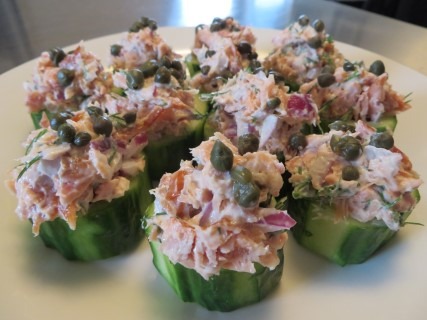 Reminiscent of lox, with Smoked Salmon, Capers and Dill in the recipe, then paired with the crunch of a fresh Cucumber. So delicious!
This is a very easy Appetizer to make yet presents itself very elegantly. There is a whole lot of flavor in this little Cucumber Cup. If you like Smoked Salmon, you have to give this one a try!
SMOKED SALMON CUCUMBER CUPS APPETIZER
Ingredients:
5-6 Ounces Smoked Salmon, shredded
1/2 Cup Mayonnaise
1/3 Cup Red Onion, thin sliced and diced
1 Large English Cucumber
3-4 Cherry or Grape Tomatoes
1 & 1/2 Tablespoons Capers
2 Tablespoons Fresh Dill, chopped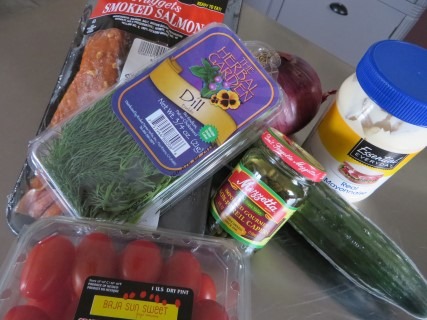 Directions:
1.  Using a vegetable peeler, peel the Cucumber skin to create a striped pattern as you see here.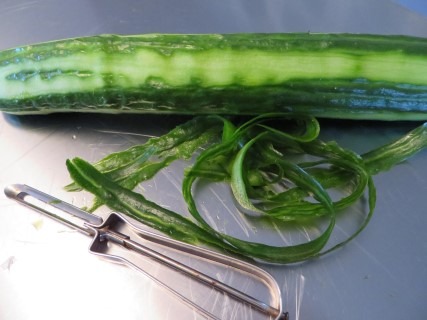 2. Slice the Cucumber into 1 inch pieces, you should get 11 to 12 slices. Use a melon baller to hollow out the centers of each piece without going all the way through as you see here. This will create our cup for the filling.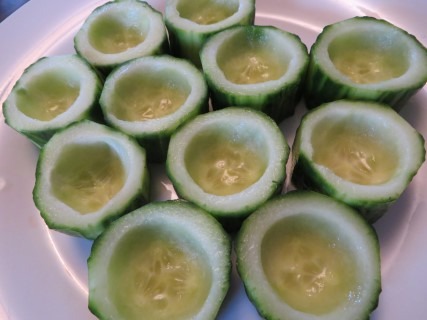 3. Slice the Cherry or Grape Tomatoes and insert one slice into the bottom of each Cucumber cup.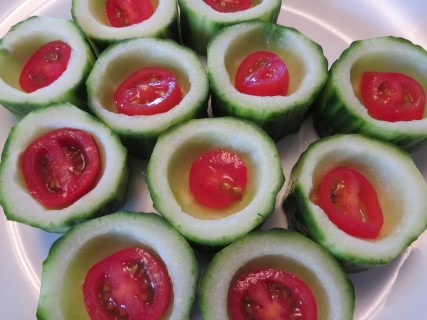 4. Time to make the filling. In a medium size bowl stir together the Smoked Salmon, Mayo, Dill and Red Onion, with a fork until well combined.
5. Using a spoon, fill the Cucumber Cups with about 2 Tablespoons of the filling. It should be slightly over filled and mound it on top.
6. Add a few Capers to the top of each mound of filling by simply pressing them on top.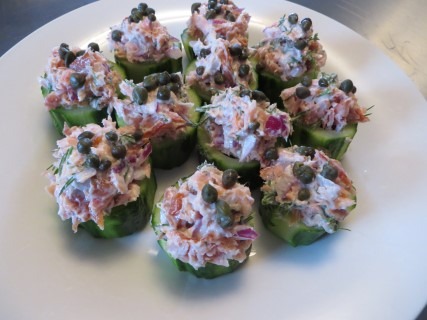 Serve immediately or cover with plastic wrap and refrigerate until ready to serve.
Recipe by: Hot Dish Homemaker