Slow Cooker Cheesy Ham Casserole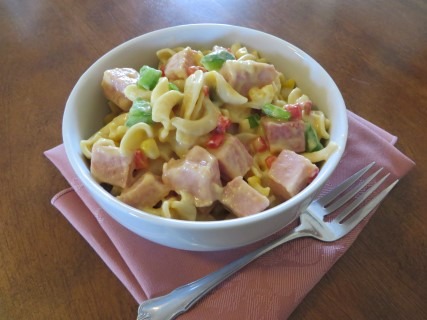 A colorful Cheesy Ham dish to serve on a cold day.
Here in Minnesota we like to call our Casseroles "Hot Dishes" I guess it is just our Scandinavian roots. Trust me in Minnesota we have a lot of "Hot Dishes" during the cold Winter months!
This dish is simple to make. Basiclly you are just throwing all your ingredients in the Slow Cooker and allowing all the flavors to marry and the Cheese to melt and bring everything together.
SLOW COOKER CHEESY HAM CASSEROLE
Ingredients:
4 Cups Cubed Ham (I used Ham Steak but you can use leftover Ham)
2 Cups Cheddar Cheese, Shredded
1 (16 oz.) Package Egg Noodles, cooked
1 Cup Green Onions, diced
1 Green Pepper, diced
1/2 Cup Heavy Cream or Half & Half
1 (16 oz.) Package Frozen Corn
2 (4 oz.) Jars Pimento
2 (10 3/4 oz.) Cans Cream of Chicken Soup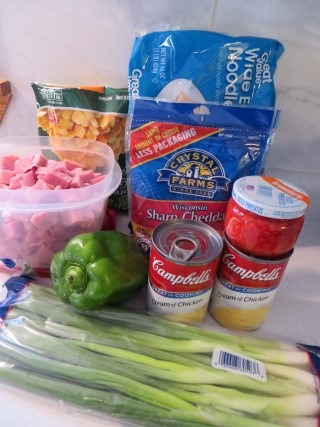 Directions:
1. Cook Egg Noodles according to package directions, drain and rinse in cold water to cool. Place the Noodles in a large bowl.
2. Add all of the remaining ingredients to the bowl and stir to combine.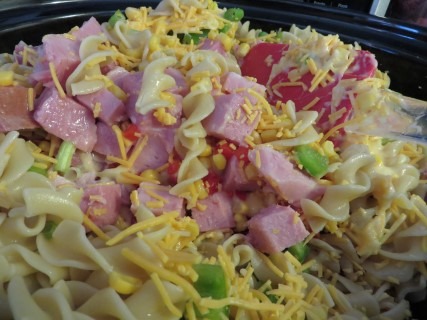 3. Pour the Noodle mixture into your slow cooker and set the temperature on low and cook for approximately 4-5 hours. All slow cookers are different. The newer models cook at a higher temp so keep an eye on your Casserole. Give it a good stir every half an hour or so. You want all the Cheese to be melted, the Veggies to be tender and all the ingredients to be nice and hot.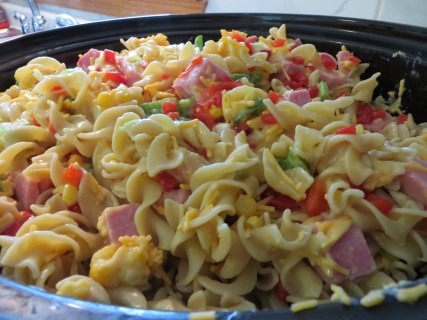 Recipe by: Hot Dish Homemaker