Savanna Banana Drink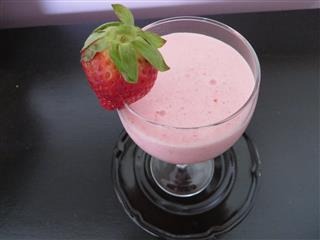 A fruity tropical style drink that is perfect for a warm afternoon on the patio!
I am always trying to create new fruity adult beverages. There are so many flavor combinations that you can pair together to create something fabulous for sipping!
There are a lot of fruity pre-made beverages you can purchase at your local liquor store but I find a lot of the pre-made beverages can taste very artificial or are overly sweet.
I started my mixology to come up with a good flavor combination that wasn't over the top. Trust me, if you get one too many ingredients or the wrong combination, you will be disappointed. Don't let that stop you from trying to create new concoctions. Just start with very small batches so you don't waste your ingredients.
This one took me a few tries but it got a thumbs up from my taste testers. Like most sweet drinks, you don't want to sit down and have several. One or two will be sufficient for an afternoon on the patio or for an after diner drink in lieu of dessert.
Here is the recipe:
SAVANNA BANANA DRINK 
Ingredients:
9 Ice Cubes
6 Strawberries, cut in half
1/2 Banana
1/2 Cup Coconut Milk
1/2 Cup White Cran-Strawberry Juice
1 Cup Coconut Flavored Rum
Directions:
1. Place the Ice Cubes in a blender and blend until the ice is crushed.
2. Cut the Strawberries in half and cut the Banana up into small pieces, then add them to the blender and blend until the fruit is finely chopped.
3. Add the Coconut Milk, White Cran-Strawberry Juice and the Rum and blend for 2 minutes on high until all ingredients are well combined and smooth.
4. Pour into a chilled glass with a Strawberry garnish and serve immediately.
Recipe by: Hot Dish Homemaker