Roasted Red Pepper And Smoked Salmon Spread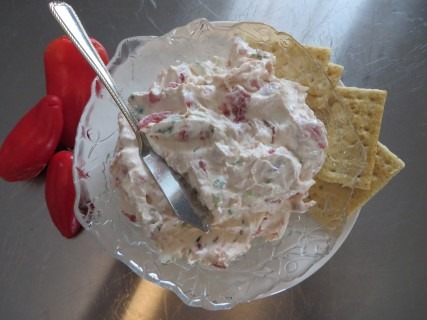 This recipe has a great flavor combination of Roasted Red Peppers and Smoked Salmon in a creamy base. 
Smoked Salmon has a lot of nutritional benefits. I try to incorporate it in a lot of my appetizer recipes. This recipe can be made ahead of time. The refrigeration time allows the flavors to marry and become one robust taste sensation on a Cracker or baguette slice.
I like to make this during the holidays for guests or bring to a holiday party, but it is great anytime of the year. There is never any left over!
ROASTED RED PEPPER WITH SMOKED SALMON SPREAD
Ingredients:
3/4 Cup Roasted Red Peppers, diced
4.5 Oz. Wild Smoked Salmon, flaked
1 Cup Sour Cream
8 Ounces Cream Cheese, softened
1 Cup Pepper Jack Cheese, shredded
2 Green Onion Stalks, finely chopped using both the green and white portion
1/2 Teaspoon Garlic Powder
Fresh Ground Black Pepper
Directions:
1. Mix Sour Cream and Cream Cheese with a hand mixer until smooth.
2. Mix in the Garlic Powder and Black Pepper.
3. Stir in the remaining ingredients until well combined to blend all the flavors.
4. Refrigerate for 2 hours before serving. (you can make this a day ahead as well, just put it in an airtight plastic container)
~Serve with Crackers, Pita Chips or Rustic Baguette Slices.
Recipe By: Hot Dish Homemaker