Quick And Easy Crab Stuffed Mushrooms Appetizer Recipe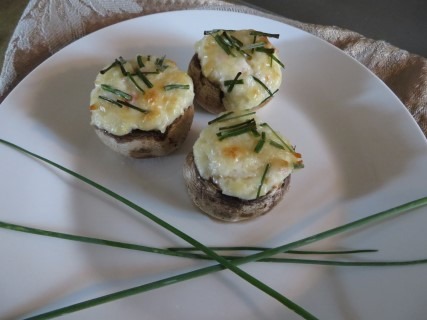 This is a Quick and Easy Appetizer Recipe. I created it on the fly one day and it turned out so yummy, I get requests to make it often.
With only four ingredients, you can whip these up in a flash! Last minute get together and you don't know what to serve? These only take a few minutes to make, then pop them in the oven and you will have a nice warm Appetizer to serve your guests.
QUICK AND EASY CRAB STUFFED MUSHROOMS RECIPE
Ingredients:
8 oz. Whole Button Mushrooms
1/2 Cup Crab Dip ( I used Old Home Brand)
1/2 Cup Shredded Parmesan Cheese
1-2 Tablespoons Chives or Green Onions, diced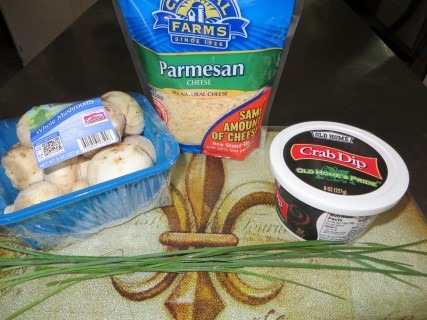 (So now you see the little secret to this recipe. By using Crab Dip you can cut your ingredients in half and it is a time saver. Tastes great and adds a nice creamy texture!)
Here is how you put it all together:
Directions:
1. Preheat oven to 375 degrees.
2. Remove the stems form the Mushroom Caps and save for another use. Brush off any dirt from the Mushrooms.
3. In a small bowl combine the Crab Dip and Parmesan Cheese. Stir together well. This is our filling.
4. Place the Mushroom Caps in a 6 x 9 baking dish. If your Mushroom Caps are a bit larger you may need to go up a pan size.
5. Fill each Mushroom Cap with the filling.
6. Sprinkle the tops of each Mushroom with the Chives or Green Onions. In these pictures I used Chives because I had them in my garden. Green Onions can also be used.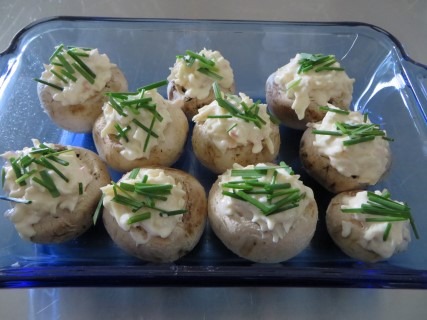 7. Bake the Mushrooms in a preheated 375 degree oven for 20-30 minutes. All ovens cook differently so check at 15 minutes. You are looking for the Mushrooms to be cooked and the top to turn slightly brown as you can see in this picture.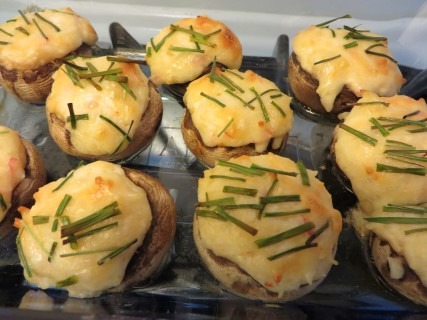 8. When the Mushrooms are done, remove from oven and transfer to a serving plate.
~You won't believe how easy it is to make these and they are impressive to serve.
Do ahead tip: The unbaked Mushrooms will keep for a few hours covered in the refrigerator so you can prepare the Mushrooms ahead of time and then pop them in the oven when your guests arrive.
Enjoy!
Recipe by: Hot Dish Homemaker