Pumpkin Cheesecake Trifle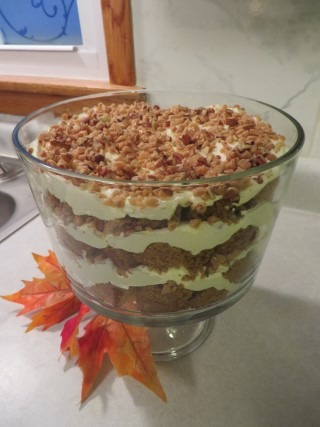 This dessert is easy to make and a Trifle is always impressive.
Try this recipe for Thanksgiving Dessert instead of the usual Pumpkin Pie. This is also a great dessert to serve for the Christmas holiday season.
According to Wikipedia: The earliest known use of the name trifle was for a thick cream flavoured with sugar, ginger and rosewater, the recipe for which was published in England, 1596, in a book called "The good houswife's Jewell" by Thomas Dawson. It wasn't until sixty years later when milk was added and the custard was poured over alcohol soaked bread.
Research indicates it evolved from a similar dessert known as a fool or foole, and originally the two names were used interchangeably.
Trifle dessert has come a long way and there are so many variations on recipes. Get yourself a nice Trifle bowl for serving. A Trifle dessert makes such a nice presentation on a buffet table.
Here is a recipe to get you started.
PUMPKIN CHEESECAKE TRIFLE
Ingredients:
1 (18.25 oz.) Box Spice Cake Mix
1 (3.4 oz.) Vanilla Instant Pudding Mix
1/2 Cup Vegetable Oil
1/2 Cup Water
1 Cup Pumpkin Puree (NOT the pumpkin pie mix)
3 Eggs
1 & 1/2 Teaspoons Cinnamon
1/4 Teaspoon Cloves
1/4 Teaspoon Nutmeg
2 Cups Cold Milk
2 (3.4 oz.) Cheesecake Flavor Instant Pudding Mix
2 Cups Whipped Topping
1 Cup Pecan Pieces
1 Cup English Toffee Bits
Directions:
1. Preheat oven to 350 degrees.
2. Spray a 9 x 13 cake pan with cooking spray, set aside.
3. In a large mixing bowl, add the Cake Mix, Vanilla Pudding Mix, Pumpkin, Oil, Water, Eggs, Cinnamon, Nutmeg and Cloves. Beat with a hand mixer until well combined, then pour the batter into the prepared pan.
4. Bake for 45 minutes then use a toothpick inserted in the center of the Cake to see if the Cake is done. If it comes out clean the Cake is done. All ovens cook differently so you may need to bake and additional 5 minutes.
5. Cool the Cake completely, then cut it into 1 inch cubes.
6. Whisk together the Milk and Cheesecake Pudding Mix. Allow to set, about 2-3 minutes, then fold in the Whipped Topping.
7. Layer 1/3 of the Cake Cubes in the bottom of a Trifle bowl. Next layer 1/3 of the Cheesecake Pudding mixture on top of the Cake Cubes. Then add 1/3 of the Pecans and Toffee Bits on top of the Pudding Mixture.
8. Repeat layers ending with Cheesecake mixture on top and garnish the top with remaining Pecans and Toffee bits.
9. Refrigerate for at least 4 hours before serving. You can refrigerate longer up to 6 or 8 hours before serving…it tastes even better!
Recipe by: Hot Dish Homemaker