Pumpkin Crisp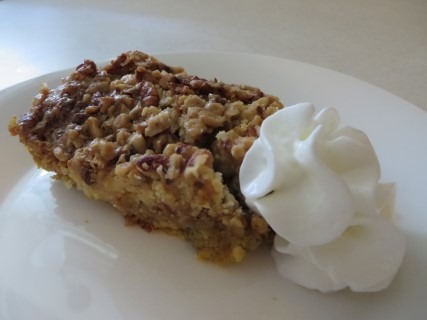 A new way to serve Pumpkin in a dessert. Pumpkin Crisp!
The usual Pumpkin Pie, Cookies or Cake are all great but I wanted to create something a little bit different. I found a lot of old dump cake recipes that used Pumpkin so with a little reinvention of several of those recipes, I came up with this Pumpkin Crisp recipe!
PUMPKIN CRISP
Ingredients:
1 (15 Ounce) Can Pumpkin Puree (NOT the pie mix)
1 Golden Recipe Butter Cake Mix (if you can't find this substitute yellow cake mix)
1 Cup Brown Sugar
1 (5 ounce) Can Evaporated Milk
2/3 Cup Half & Half
3 Eggs
2 Sticks Butter, melted
1 Teaspoon Nutmeg
1 Teaspoon Ground Cloves
1/2 Tablespoon Cinnamon
1 Cup Pecans, chopped
1 Cup Heath English Toffee Bits
Directions:
1. Preheat oven to 350 degrees.
2. Spray a 9 x 13 baking dish with non-stick spray and set aside.
3. In a large mixing bowl add the Pumpkin, Eggs, Brown Sugar, Evaporated Milk, Half & Half, Cinnamon, Cloves and Nutmeg. Then blend together using a hand mixer on medium speed until well combined and smooth.
4. Pour the Pumpkin mixture into the prepared pan.
5. Sprinkle the Cake Mix evenly over the top of the Pumpkin.
6. Next Sprinkle the Pecans evenly over the Cake Mix, then sprinkle the Toffee Bits over the Pecans.
7. Drizzle the Melted Butter evenly over the top of all.
8. Bake for 45 minutes. You may need to bake an additional 10-15 minutes. All ovens cook differently. You are looking for a golden brown top and you want the center to be set…very little jiggle in the center! hehe! It should look like this.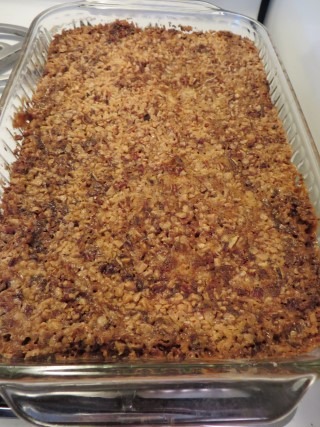 9. Let the Pumpkin Crisp cool before cutting and serving. You want the Pumpkin to set, if you cut it while it is hot, the Pumpkin can ooze all over. It will be well worth the wait!
~Serve the Pumpkin Crisp with Whipped Cream or Cinnamon Ice Cream.
Recipe by: Hot Dish Homemaker