Pomegranate Spinach Salad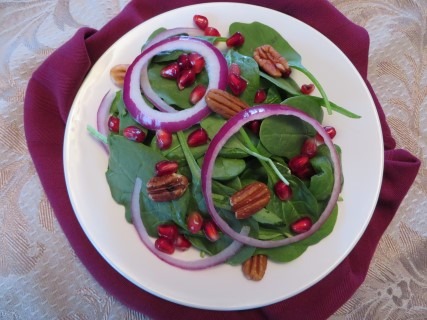 This is a light and healthy salad. Very colorful!
Pomegranates are sometimes referred to as the Chinese apple or "jewel of the winter" in North America. Pomegranates are in season during early winter. You can freeze Pomegranate Seeds so you can enjoy them after their season has come and gone.
The primary source of Pomegranate's benefits come from its antioxidant content, particularly ellagitannin compounds like punicalagins and punicalins, which account for about half of the Pomegranate's antioxidant ability. It's also an excellent source of the antioxidant vitamin C, with one Pomegranate providing about 40 percent of the daily requirement for this vitamin.
Here is a great Salad recipe to incorporate Pomegranates into your diet.
POMEGRANATE SPINACH SALAD   
10 oz. Organic Baby Spinach
1 Medium Red Onion, Sliced thin
1/2 Cup Whole Pecans
Seeds from 1 Pomegranate  (about 1 cup)
Pomegranate Vinaigrette *see recipe below*
POMEGRANATE VINAIGRETTE 
 3 Tablespoons Pomegranate Juice
1/4 Cup Olive Oil
2 Tablespoons Red Wine Vinegar
1 Tablespoon Honey
Freshly Cracked Black Pepper
1. Place all Vinaigrette ingredients in a mason jar and shake vigorously to combine.
2. Place all Salad ingredients in a large salad bowl.
3. Drizzle Salad with the Pomegranate Vinaigrette, gently toss.
Recipe by: Hot Dish Homemaker