Pineapple Coconut Dessert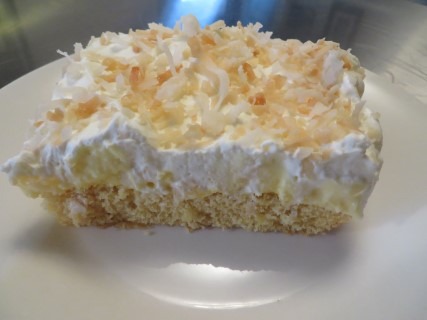 A creamy 3 layer Dessert with hints of Pineapple and topped with Toasted Coconut.
These layered Dessert recipes have been around forever. I am sure you all probably have a similar recipe handed down from a family member or got the recipe from the church ladies. I  found mine in an old community cookbook and I changed it up a bit to modernize it. Why do we still make these types of desserts? Because they are simple and everybody loves them.
These recipes always use several ingredients from a box or can. We must remember back in the day, when they developed box mixes it was like a new fangled space age gift! Recipes started changing from scratch to becoming semi-homemade. This recipe even called for the frozen non-dairy topping…you know which one I am talking about, but I thought surely I could at least whip up the Heavy Cream for the top of this dessert. So go ahead and take a few shortcuts and make this recipe, especially if you are feeding a crowd. This recipe makes two 9 x 13 pans so it is great to serve at a large gathering.
PINEAPPLE COCONUT DESSERT 
Ingredients:
1 (16.5 oz.) Duncan Hines Classic Yellow Cake Mix
1 (20 oz.) Can Crushed Pineapple, drained
1 (7 oz.) Package Flaked Coconut
3 (3.4 oz.) Packages Vanilla Instant Pudding
4 Cups Milk
1/3 Cup Sugar
3 & 1/2 Cups Heavy Whipping Cream
2 Teaspoons Coconut Extract
1 (8 oz.) Package Cream Cheese, softened
Directions:
1. Make the Cake Mix according to package directions EXCEPT pour the batter into TWO 9 x 13 pans. Spread the batter out evenly. Don't worry, the batter will rise and this is only the bottom layer of our Dessert so we need to have room for the next two layers. The baking time will most likely be much less than stated on the package since we are using two pans. Mine took about 17 minutes. Check for doneness at about the 10 minute mark and then check every 5 minutes or so.
2. When the Cakes are done, allow them to cool completely.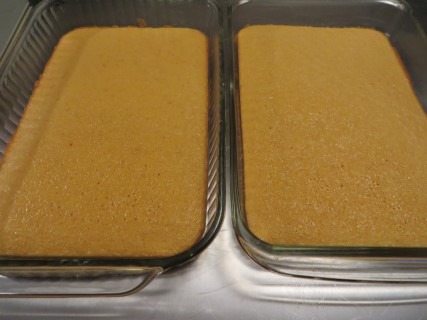 3. Wait, don't turn the oven off just yet. Spread the Coconut out on a 9 x 13 baking sheet and pop it into the already preheated oven. Stir it often and bake just until toasted. Watch closely, once the Coconut starts to get golden brown it can burn quickly so air on the side of caution and remove it as soon as it gets that toasty color. Set the Toasted Coconut aside and allow it to cool.
4. In a large mixing bowl, add the Pudding Mixes, Coconut Extract and Milk. With a hand mixer blend for about 2 minutes. Next add in the Cream Cheese and mix until all ingredients are well combined and smooth.
5. With a spatula, fold in the drained Pineapple.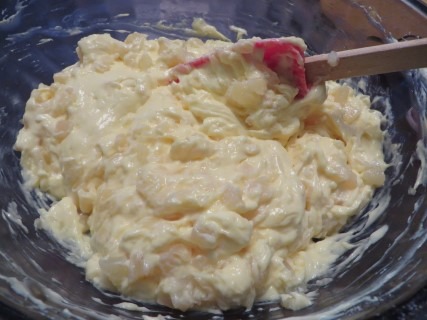 6. Spread the Filling evenly over the 2 cakes.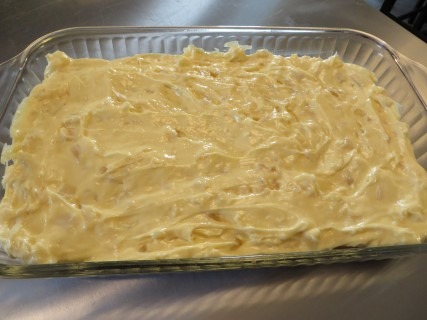 7. With a handheld mixer whip the Cream and Sugar until stiff peaks form. Spread the Whipping Cream evenly in the two pans over the top of the filling layer.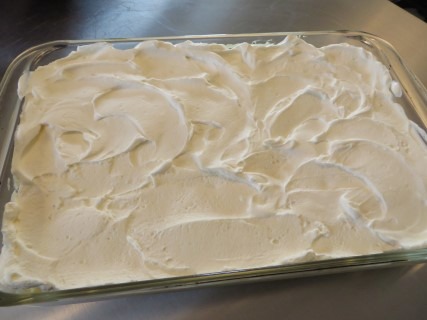 8. Now sprinkle the cooled Toasted Coconut over the top of the Whipped Cream layer in both pans.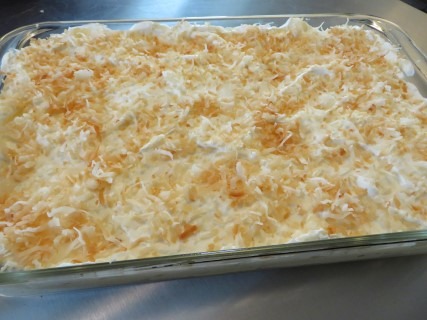 9. Cover the pans tightly and refrigerate for at least 2 hours. After the Desserts have chilled, slice and serve!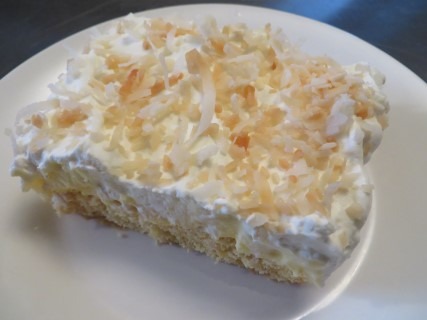 ~Store any leftovers in the refrigerator.
Recipe by: Hot Dish Homemaker