Pineapple Angel Food Cake With Toasted Coconut Glaze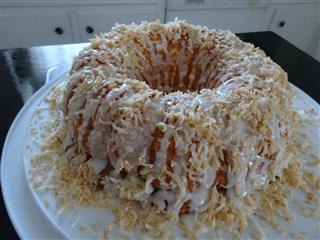 I had heard you could simply add Crushed Pineapple to an Angel Food Cake Mix and voila, you have a moist bundt cake.
 I didn't have any instructions but I decided to give it a whirl. After all, I think everyone has made a dump cake at one point and they always turn out just fine, I thought this would be just as easy.
The cake came out very well! I decided to make a Toasted Coconut Glaze to top it off.
Here is my recipe….
PINEAPPLE ANGEL FOOD CAKE WITH TOASTED COCONUT GLAZE
Ingredients:
1 Box Duncan Hines Angel Food Cake Mix
1 (20 ounce) Can of Crushed Pineapple
1 1/2 Cups Powdered Sugar
3 Tablespoons Hot Water
1/2 Teaspoon Coconut Extract
2 Tablespoons Heavy Cream
2 Tablespoons butter, melted
1 Cup Toasted Coconut
Directions:
1. Preheat oven to 350 degrees. If you are using a dark or nonstick bundt pan then preheat to only 325 degrees.
2. In an extra large mixing bowl combine the Angel Food Cake Mix and Crushed Pineapple with a hand mixer on low speed to combine then beat on medium speed for 1 minute.
3. Spray your bundt pan with nonstick cooking spray. (be sure to use a 12 cup bundt pan, I used a 10 cup bundt pan and it almost overflowed during the baking process)
4. Pour the batter into the prepared pan and bake for 35-45 minutes. Look for the top to be golden brown and the cracks should feel dry not sticky. This is the important part, When you remove the Cake from the oven IMMEDIATELY invert the pan upside down. You can use a glass bottle or 3 or 4 coffee mugs. Just rest the rim of the pan on the coffee mugs to balance. Let the Cake rest upside down until completely cool.
5. Transfer the cooled Cake to a cake plate.
6. Now make the Glaze for your Cake. In a large mixing bowl combine the Powdered Sugar, Butter, Coconut Extract, Cream and Hot Water. Using a hand mixer, blend until smooth and the consistency of syrup.
7. Drizzle the Glaze over the Cake and then sprinkle with the Toasted Coconut.
Recipe by: Hot Dish Homemaker