Pickled Asparagus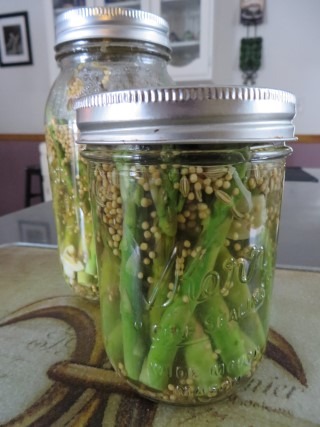 Try pickling Asparagus in your refrigerator.
I am giving this process a thumbs up! This Asparagus would be great to serve at picnics. Why not add the Asparagus Spears to your Bloody Mary for brunch!
If you grow Asparagus in your garden or find it at your local Farmers Market, this is a great recipe to try.
I made 2 jars at first and the Pickled Asparagus was gone in just a few days! I have plenty of jars on stand by so next time I can make a larger batch. I am glad that my family loves it. Asparagus is so good for you. Asparagus is packed with antioxidants, chromium and vitamins A, C and K.
Give a jar to your friends, relatives or neighbors. Bring a jar as a hostess or housewarming gift.
Hopefully this gives you another option for serving Asparagus in your home. We love it and hope you do too!
Here is the recipe:
PICKLED ASPARAGUS 
Ingredients:
2 Pounds Fresh Asparagus Spears, trimmed and cut to fit in your jars
1 & 1/2 Cup Water
1/2 Cup Sugar
1 & 1/2 Cups White Wine Vinegar
2 Tablespoons Kosher Salt
6 Cloves Garlic
2 Tablespoons Yellow Mustard Seeds
2 Tablespoons Fennel Seeds
Directions:
1. Wash and pat dry the Asparagus Spears.
2. Trim the bottom ends off the Asparagus Spears.
3. Place the Asparagus Spears vertically in a Mason Jar or Pickling Jar, you will probably need two jars, unless you have a really big jar on hand. Depending on the size of your jars and the size of your Asparagus, will determine if you use one or two jars.
4. Slice the Garlic very thin, lengthwise.
5. In a medium size saucepan, add the White Wine Vinegar, Water, Sugar, Fennel Seeds, Mustard Seeds, Salt, and the Garlic and bring to a boil, then remove from heat.
6. Pour the hot liquid over the Asparagus Spears in the jar or jars.
7. Place the lid on the jar or jars and let them cool to room temperature.
8. Once the Asparagus jar or jars have cooled to room temperature, place them in the refrigerator for at least 48 hours.
9. After 48 hours, test the Asparagus. It needs to be full of pickled flavor and tender. If you used thicker Asparagus the pickling process may take a bit longer-up to 3 days.
Here is the finished product.
This is so easy to do and a great way to use Asparagus, especially if you grow it in your garden. This Asparagus would be fantastic on a gourmet hotdog, serve them as an appetizer or just eat them straight out of the jar!
I hope you give it a try!
Recipe by: Hot Dish Homemaker