Parmesan Chicken Strips
A tasty variation of Chicken Strips that are easy to make.
I have been making these Parmesan Chicken Strips for years. I came up with this recipe one day when I was looking for a new idea for serving Chicken Breasts that I had on hand. They were a hit so I have made them many, many times since then.
My husband recently asked  if I had the recipe. The answer was no, I had not written it down. Since it is one of our favorites, I decided I should really put the recipe together and add it to the collection.
Serve these Chicken Strips as an Appetizer, Main Dish or to top off a Caesar Salad.
These Chicken Strips are great served warm, room temperature or even cold! Bring them on a picnic to serve along side your potato salad!
PARMESAN CHICKEN STRIPS
Ingredients:
3 Boneless Skinless Chicken Breasts, cut into strips
1 (5 oz.) Package Caesar Style Croutons, crushed
1/2 Cup Shredded Parmesan Cheese
2 Tablespoons Honey Dijon Mustard
1 Egg
1/4 Cup White Wine, I use Chardonnay
Freshly Ground Black Pepper
Directions:
1. Preheat oven to 375 degrees.
2. Spray a baking sheet with non stick cooking spray and set aside.
3. In a shallow baking dish, combine the Croutons and Parmesan Cheese with a fork. Give the Pepper Mill a few turns over the Crouton mixture and stir again with a fork.
4. In a second shallow bowl combine the Egg, Wine, and Mustard with a whisk until blended. (if you are using extra large Chicken Breasts, your yield will be higher so you may need to increase the wet ingredients slightly. Just add a bit more White Wine and Mustard in with the Egg to ensure you have enough to cover all of your Chicken Strips)
5. Dredge the Chicken Strips, one at a time into the Egg mixture then into the Crouton mixture to coat.
6. Place the Chicken Strips on the baking sheet lined up close together as you see here. Do Ahead Tip: at this point you can cover the pan and refrigerate the Strips for a few hours before baking.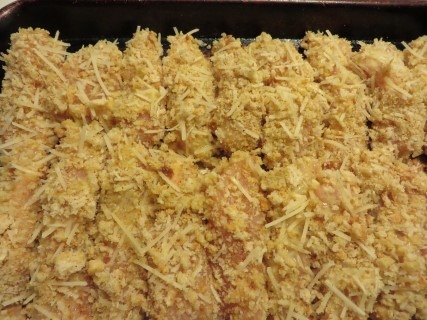 7. Place the Chicken Strips in the preheated oven and bake for 20-40 minutes. All ovens cook differently so check at 20 minutes. You are looking for a golden brown color and the coating should start to crisp, ever so slightly.
Serve these with additional Honey Dijon Mustard for dipping or on top of a Caesar Salad. The leftovers are great to put in a lunchbox the next day as well!
Recipe by: Hot Dish Homemaker