Lemon Glazed Butterhorns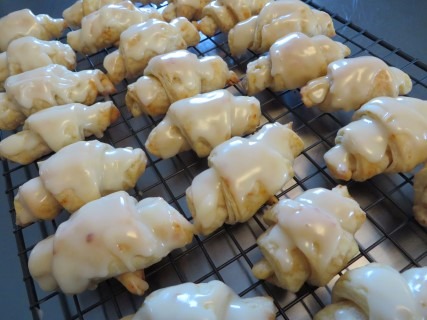 These little Butterhorns are great to make for a brunch, dessert or for your Holiday buffet table.
One surprising ingredient is Cottage Cheese. I was looking through some old cookbooks and I found a community cookbook from St Paul, Minnesota published in 1977. It had submissions from teachers, housewives, coaches, parents and more. I found a recipe submitted by a nun from a local convent. The recipe was called Cottage Cheese Butterhorns. I was intrigued so I read through the recipe. Minimal ingredients, easy to make. I decided to take the recipe, change a few things and modernize it slightly.
So here is my version of the recipe.
LEMON GLAZED BUTTERHORNS
Ingredients:
1 & 3/4 Cups Cottage Cheese
2 Cups All Purpose Flour
1/2 Teaspoon Salt
1 & 1/2 Cups Unsalted Butter, softened
1 & 1/2 Cups Powdered Sugar
2 Teaspoons Lemon Extract
1 Tablespoon Hot Water
Directions:
1. In a large mixing bowl cream together the Cottage Cheese and 1 Cup of the Butter using a handheld mixer.
2. In a medium size bowl combine the Flour and the Salt. Add the Flour mixture to the Cottage Cheese mixture with a wooden spoon until it starts to come together like dough, as you see here.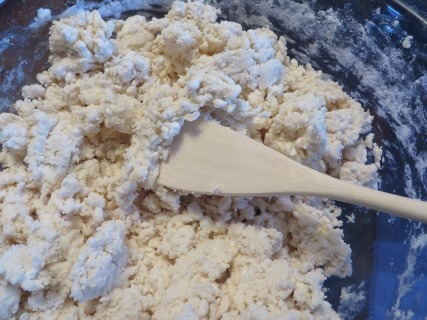 3. Time to get in there with your hands! Form the dough together then separate it into 3 parts. Form 3 small disc shapes and wrap them in plastic wrap. Refrigerate them for 2 hours.
4. Preheat oven to 350 degrees.
5. Work with one disc at a time and roll the dough out on a floured surface into a circle about 11 inches wide. Use a pizza cutter to cut 12 pie shape pieces of dough as you see here.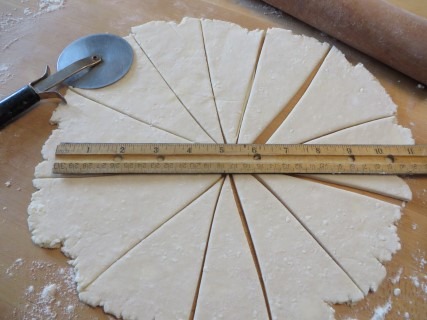 6. Spray a baking sheet with nonstick cooking spray. Roll the pie shape slices up starting at the wide end. They will look like mini croissants.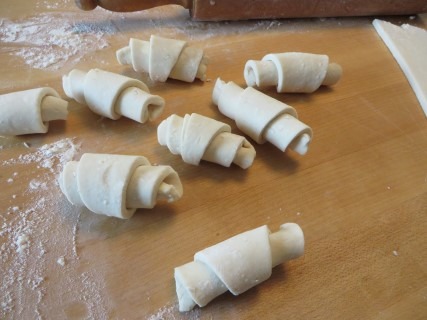 7. Place the Butterhorns on the baking sheet and bake for 30-35 minutes. When done, transfer to a cookie cooling rack to cool.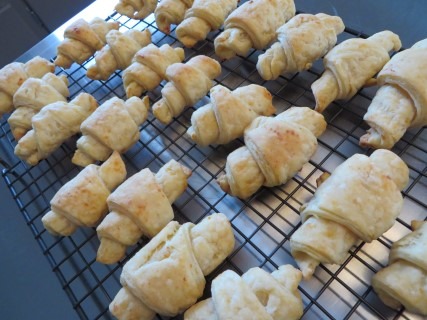 8. Continue with the 2 remaining discs until all your Butterhorns are all baked and cooled.
9. Time to make the Glaze. Add 1/2 Cup Butter to a small saucepan and melt over low heat. Whisk in the Powdered Sugar and Lemon Extract and remove from heat. Whisk in the Hot Water to get the proper consistency.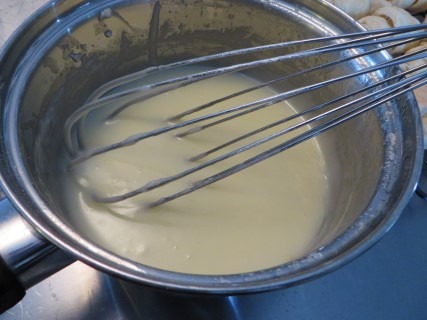 10. I first used a pastry brush to apply the glaze but I found it was better to just use a spoon and let the Glaze drizzle over the Butterhorns.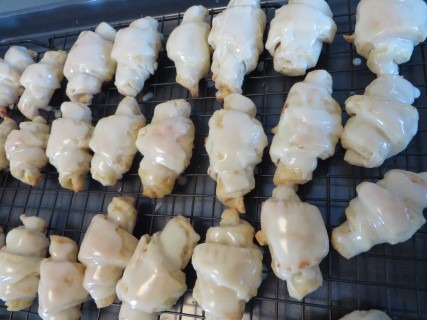 11. Allow the Glaze to set for a few minutes, then you are ready to serve.
~Recipe makes 36 Butterhorns.
Recipe by: Hot Dish Homemaker