Italian Style Panini Sandwich Recipe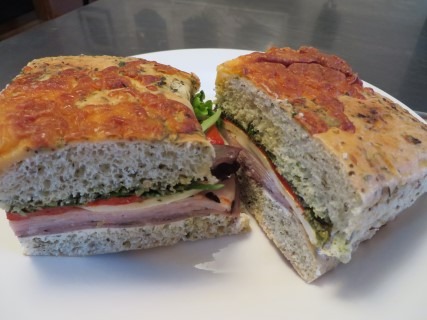 This sandwich is made several hours ahead of time then refrigerated. Easy to prepare in the morning then slice it for lunch or even dinner!
According to Wikipedia, the first U.S. reference to panini dates to 1956, and a precursor appeared in a 16th-century Italian cookbook, the sandwiches became trendy in Milanese bars, called paninoteche, in the 1970s and 1980s. Trendy U.S. restaurants, particularly in New York, began selling panini, whose popularity then spread to other U.S. cities, each producing distinctive variations of it.
The Panini Press started gaining popularity a few years ago to make hot toasted Panini Sandwiches. If you are like me, you may be running out of storage space for all the gadgets and appliances in your kitchen and pantry. This recipe however presents a cold version of the sandwich so you don't need a press, merely something to weigh the sandwich down. A cast iron skillet works perfectly!
ITALIAN STYLE PANINI SANWICH RECIPE
Ingredients:
4 Ounces Deli Roast Beef Slices
4 Ounces Smoked Turkey Slices
4 Tablespoons Basil Pesto
4 Tablespoons Aloutte Garlic Herb Cheese Spread
6 Slices Provolone Cheese
1 and  1/2 Cups Organic Spring Mix Lettuce
12 Ounce Jar Roasted Red Peppers, sliced
1 Focaccia Loaf (12 oz.-8 x 8 round and 1 inch thick)
Directions:
1. Slice the Focaccia Loaf horizontally.
2. On the cut sides of the bread, spread the Aloutte Garlic Herb Cheese Spread on one side then spread the Basil Pesto on the other cut side.
3. Time to build the Sandwich! Start by layering the Beef slices on the bottom slice. Next add the Turkey on top of the Beef. Next layer the Provolone Cheese on top of the Turkey. Now add the Roasted Peppers in a single layer on top of the Provolone Cheese. Finally add the Organic Spring Mix Lettuce.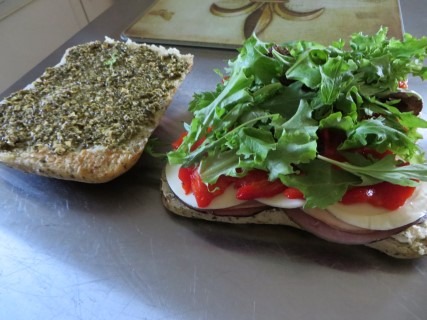 4. Now put the top on the Sandwich and place the sandwich in a plastic bag. Set the Sandwich on a tray and place a heavy cast iron skillet on top of the sandwich. Then place in the refrigerator for 4-8 hours.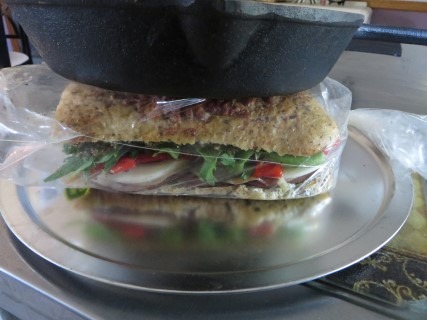 5. When you are ready to serve, just take the Sandwich out of the bag and slice into 4 hearty pieces.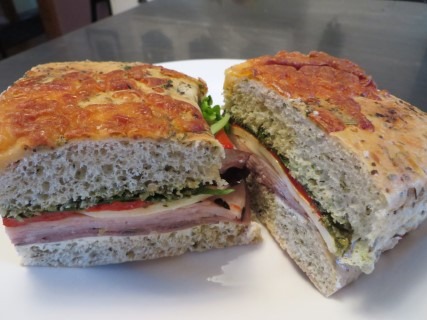 Recipe by: Hot Dish Homemaker