How To Care For Cast Iron Cookware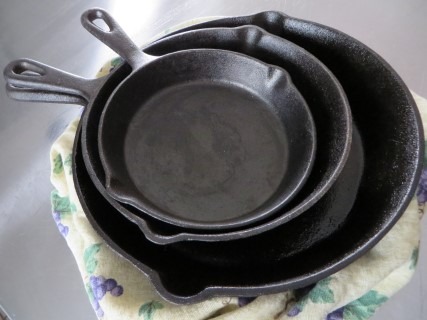 With proper care, Cast Iron Cookware can last forever
Cast Iron Cookware has been around forever. Certain foods just taste better cooked in your good old Cast Iron Skillet. However, there are certain things you should and should not do when it comes to the care of your Cast Iron Skillets and Pans.
Before we go any further, we need to talk about Pot Holders and Oven mitts. Since the handles on Cast Iron Skillets and Pans get intensely hot, you need to make sure you have some heavy duty Pot Holders or Oven Mitts close by when cooking. You may want to try the new Silicone Oven Mitts which can withstand temps to 500 degrees. I can't stress enough to always use a Pot Holder or Oven Mitt. You can seriously get burned if you grab for the handle on Cast Iron without protection.
Moving on….Let's talk about "Seasoning The Pan".  Cast Iron Pans require you to "Season the Pan". I will explain the technique next. Many of the Cast Iron Pans sold today, already come "Pre-Seasoned" check to see which type you have before you begin.
If you are wondering "Why Cast Iron needs to be seasoned"? This process protects the cooking surface from rusting and also helps to make the surface non-stick.
Here is how you Season Cast Iron Cookware:
1. Hand wash your Cast Iron Skillet or Pan in very hot soapy water, then thoroughly rinse the pan. Immediately towel dry the pan.
2. Preheat oven to 300 Degrees. Pour 1 spoonful of Vegetable Oil into your Cast Iron Skillet or Pan and rub the oil all over the inside of the pan. You don't want it to be thick but it should be evenly layered over the entire surface inside the pan.
3. Place the Cast Iron Pan in the oven for one hour, then remove the pan (with your Oven Mitts!) and allow the pan to cool.
4. After the pan is completely cool, wipe the excess oil off the pan and it is ready to be stored until you are going to use it.
Note: you will need to re-season your pan if the cookware gets scratched or the pre-seasoned layer is removed.
There are a few rules when it comes to cleaning Cast Iron Cookware:
Never put Cast Iron Pans in the dishwasher!
Always allow Cast Iron Cookware to cool to room temperature before cleaning.
Do Not soak Cast Iron Cookware, it can get rusty.
Try to avoid using dish soap because most contain de-greasers which will remove the seasoning from the pan. Only use hot water and a sponge. If there is food stuck to the surface, you can use a little coarse salt to help remove it. You don't want to scratch the surface of the pan because that can lead to rust or removing the seasoning.
Towel dry your Cast Iron Skillets and Pans immediately!
A few more tips to care for your Cast Iron Cookware:
Cast Iron is NOT microwave safe.
If your Cast Iron Cookware came with lids, don't store them on top of the pans. Cast Iron needs to have air circulation when being stored.
Always pre-heat your Cast Iron Skillets and Pans for better non-stick performance.
Use medium-high heat when cooking with Cast Iron.
Always use a small amount of oil in your Cast Iron Skillets and Pans before each use.
If you are storing several Cast Iron Skillets or Pans stacked together, put a liner such as a coffee filter in between each Pan. That way the air can still get in, but you have protection so the Pans don't get scratched.
With proper care, Cast Iron Cookware can last forever. You should be able to pass your Cast Iron Cookware down from generation to generation. There is nothing like cornbread prepared in a good old Cast Iron Skillet! Be sure to share your recipes with your loved ones as well!
Tip from: Hot Dish Homemaker