Green Goblin Dip with Skeleton Bone Crackers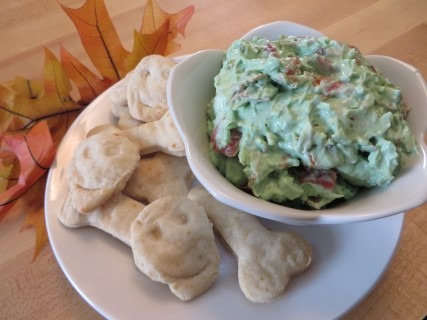 This Dip is scrumptious with hints of Pepperoni, Roasted Peppers and Parmesan. Then I paired it with homemade Parmesan Skeleton Bone shaped Crackers. Serve this for your Halloween party!
I live in Anoka, Minnesota which just happens to be the Halloween Capital so creating recipes for Halloween is a must. Of course I don't want to create all sweet treat items so I came up with this Dip, gave it a little Green Goblin food coloring, and paired it with Skeleton Bone crackers. I also served Red Pepper Strips with this for dipping. It didn't last long!
GREEN GOBLIN DIP WITH SKELETON BONE CRACKERS
Green Goblin Dip Ingredients:
1 (8 oz.) Cream Cheese, softened
1/2 Cup Sour Cream
1/2 Cup Pesto
1 Cup Pepperoni, diced
1 Cup Roasted Red Peppers, diced
1 Cup Shredded Parmesan Cheese
5-6 Drops Green Food Coloring
1 Tablespoon Minced Garlic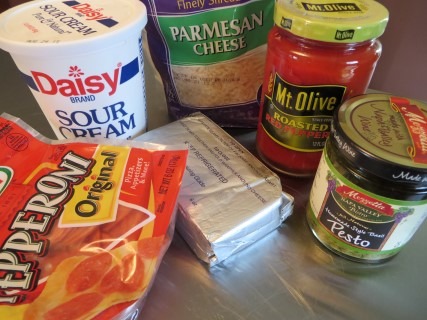 Skeleton Bone Cracker Ingredients:
1 Cup Flour
2 Tablespoons Butter, melted
1/2 Teaspoon Salt
4-8 Tablespoons Hot Water
1/2 Cup Grated Parmesan Cheese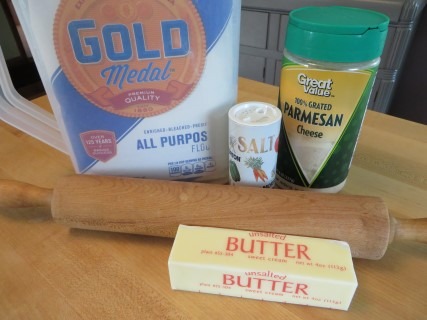 Directions:
1. First lets make the Dip. In a medium size bowl, mix together the Cream Cheese and Sour Cream using a hand mixer until smooth.
2. Add the Pesto, Food Coloring and Garlic and beat on medium until well combined.
3. Stir in the Pepperoni, Roasted Red Peppers and Parmesan Cheese. Cover and refrigerate for at least an hour prior to serving.
4. Time to make the Skeleton Bone Crackers. Preheat your oven to 400 degrees.
5. In a large mixing bowl stir together the Flour and Salt. Slowly add in the Melted Butter stirring well with a wooden spoon.
6. Now incorporate the Parmesan Cheese into the Flour mixture.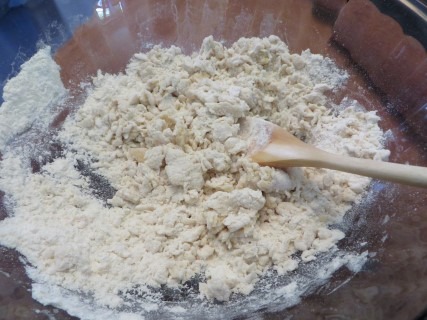 7. You can see our Flour mixture looks a little dry, this is where we add the Hot Water which will make everything come together to form a dough. Slowly add the Hot Water one tablespoon at a time. You may only need 4 Tablespoons but depending on weather in your area you may need a few more tablespoons to get your dough to come together.
8. Once your dough has formed. Separate it into 2 sections. It will be easier to work with one dough ball at a time.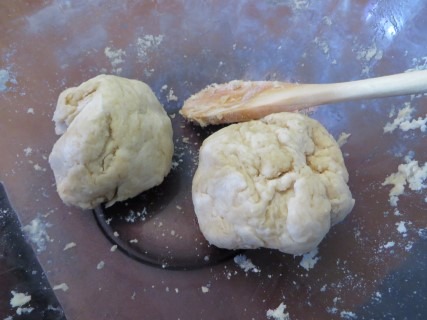 9. Lightly flour your work surface and roll out one dough ball. It should be fairly thin about 1/8 of an inch to 1/4 inch thick. Using your Skeleton Bone Cookie Cutters or free hand if you can't find these type of cookie cutters at your bakery supply store, let your creative style work here…you can't go wrong with creating scary skeleton faces and bones…super easy to create.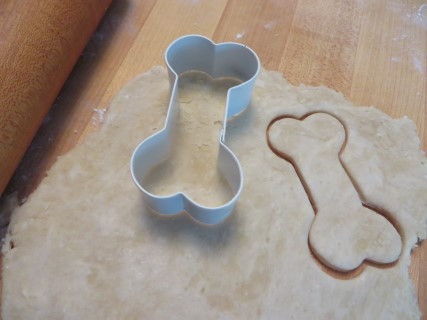 10. Line a large baking sheet with parchment paper and place your Skeleton Bone Cutouts on the parchment about and inch apart.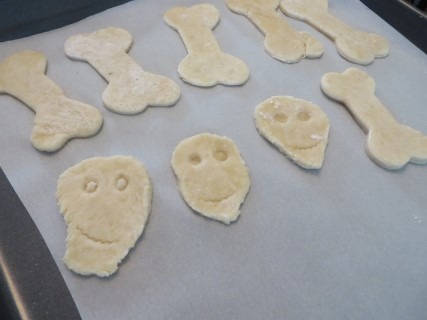 11. Bake until lightly browned. Should take about 8-10 minutes but all ovens cook differently and these are thin so they will brown quickly so just keep an eye on them.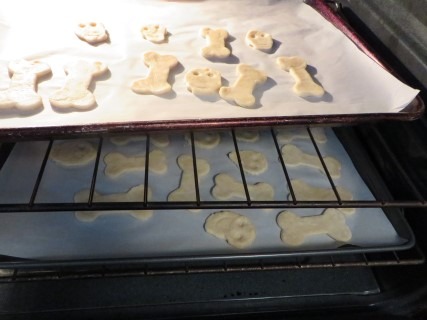 12. When the Crackers are done transfer them to a cooling rack.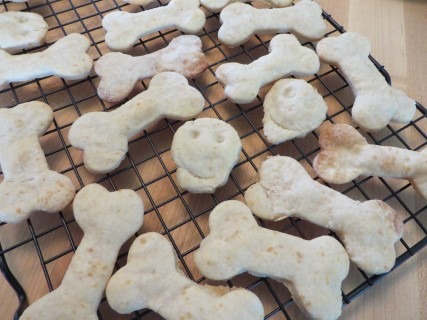 13. Once your Skeleton Bone Crackers are cool, tray them up with your Green Goblin Dip and you are ready to serve!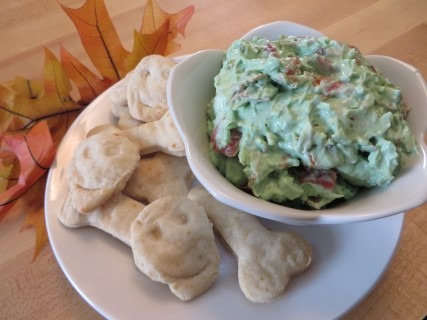 Recipe by: Hot Dish Homemaker