Easy Cherry Pie
So the star of the show for Cherry Pie should be the Cherries right? Well, there is a lot more to know about Cherries before you begin to make a Cherry Pie.
First of all, the best Cherries to use to make a Cherry Pie are sour or tart Cherries. They are the best for baking. The problem is…..most grocery stores do NOT carry fresh sour or tart Cherries. They indeed can be hard to find. I live in Minnesota and you can occasionally find them at the Farmers Markets but that is only in the Spring and Summer months. I know you can get canned sour or tart Cherries but they are also hard to find in the local super markets.
So what can you do if you can not find the proper Cherries? You could get frozen sweet Cherries but honestly they will turn to mush when trying to bake with them, and as I said, sour or tart Cherries are the best for baking Pies not the sweet variety. The next best solution is to use good old fashioned canned Cherry Pie Filling. Yep, I said it…canned Pie Filling.
A lot of people think it is cheating and you really are not making a homemade Pie. However, the canned Pie Filling contains the sour/tart Cherries you are looking for to make a perfect Pie. Sometimes you just have to go where the source for ingredients is and I think there is no shame in using the good old fashioned Cherry Pie Filling to get the proper Cherries in your Pie.
Now that we are going to cut corners and the filling is already made for us, you should focus on making a superb tasting crust. I put this recipe together for you and the taste with the filling, was amazing.  I am not a pastry chef just a Homemaker so I do not get too fancy with my Pie Crust design. I actually like the rustic, more homemade look. Of course if you want to get a little fancy and create a designer look crust or add cut out shapes on top, you are welcome to let your creative juices flow! In fact I encourage it!
Here is my recipe:
EASY CHERRY PIE 
Ingredients:
2 (21 oz.) Cans Cherry Pie Filling
1 (8oz.) Package Cream cheese, softened
1 Cup Unsalted Butter, softened
2 Cups All Purpose Flour
1/4 Teaspoon Salt
1 Egg White
1 Tablespoon White Sugar
Direction:
1. First let's make the Pie Crust. Place the Cream Cheese and 1 Cup Softened Butter in a large mixing bowl and combine with a hand mixer until smooth.
2. In a separate bowl stir together the Flour and Salt then slowly add it to the Cream Cheese and Butter mixture stirring well with a wooden spoon until it is all combined and forms a dough. You may have to get in there and use your hands to bring the dough together.
3. Divide the dough in half and shape the dough into two disc shapes and wrap them in plastic wrap.
Then place them in the refrigerator for 1 hour.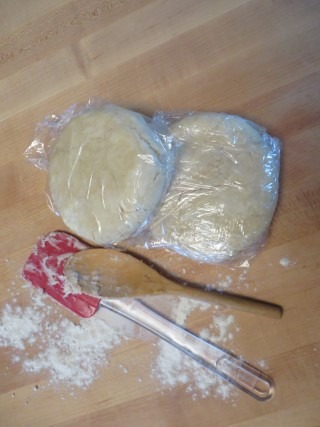 4. Take the Dough out of the refrigerator after 1 hour then let is sit for 5 minutes so it rolls out easily.
5. Pre-heat the oven to 425 degrees.
6. On a floured surface, roll out the first pastry disc. This needs to fit in a 9 inch pie pan with a bit of overhang, so try to get a 10 1/2 to 11 inch round.
7. Place the Pie Crust dough centered evenly into the pie pan. Pour the canned Pie Filling into the Pie Crust as you see here.
8. Roll out the second disc of dough into the same diameter as the first disc. We are going to cut the dough into strips to create a lattice top on the Pie. Cut strips using a pizza cutter. The strips should be about 1/2 to 3/4 of an inch wide….try to keep them uniform in size but don't fret if they are off a bit.
9. Next we are going to lay these strips on top of the Pie in a criss-cross pattern. Again, they don't have to be perfect. There is no test at the end, other than a taste test!
10. Next, we are going to pinch and seal the edges. I cut off any extra long pieces of dough to get a more uniform edge. Then I roll and pinch the edges as you see here.
11. Beat the Egg White until slightly frothy, then lightly brush the top of the Pie Crust with the Egg White. You will not end up using the entire Egg White, just discard the remainder. Sprinkle the Sugar evenly on top of the Crust and we are now ready to bake!
 This is optional but, you can place a cookie sheet on the rack below your Pie during the baking process just in case your Pie filling bubbles out a bit. That way you can just take out the cookie sheet to clean and you are not stuck cleaning your oven after baking.
12. Bake the Pie for 40-50 minutes. All ovens cook differently so the baking time may vary. Check the Pie as it is baking to ensure the Crust is not getting too brown. You may need to cover the Crust edge with a pie ring or place foil on the edge to prevent burning. The Pie will be done when you have a golden brown crust and the Pie Filling is bubbly.
13. When your Pie is done, allow it to cool before slicing. If you try to cut a hot or warm Pie, the Filling will just ooze out.
~Serve the Pie with Vanilla Ice Cream or a dollop of Freshly Whipped Cream.
Enjoy!
Recipe by: Hot Dish Homemaker