Cinnamon Sugar Muffins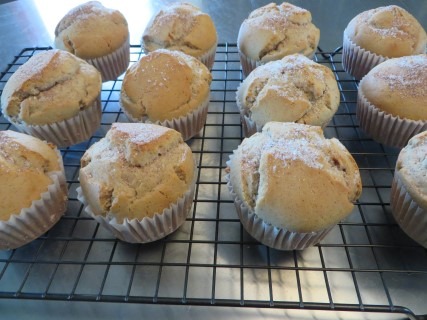 Nothing better than homemade Muffins for your next brunch or breakfast.
These are so easy to make and boy does the house smell good when these are baking.
Some cooks don't like the look of Muffins in the paper cup. We are not all professional bakers and I think using the paper cups ensures your Muffins are coming out of the pan in one piece and the clean up is so much easier. Plus if you have a busy family, the paper cup allows your family to grab a Muffin and go!
So choose to use the paper cup or not, but you have to make a batch of these yummy muffins!
CINNAMON SUGAR MUFFINS RECIPE
Ingredients:
1/4 Cup Coconut Oil
1/4 Cup Butter, softened
2 Eggs
1 Cup Milk
1/2 Cup Sugar
1/3 Cup Brown Sugar
2 & 2/3 Cup Flour
1/2 Tablespoon Cinnamon
1/2 Teaspoon Salt
1 & 1/2 Teaspoon Baking Powder
1/4 Teaspoon Baking Soda
1 Teaspoon Vanilla
Cinnamon Sugar to Sprinkle on top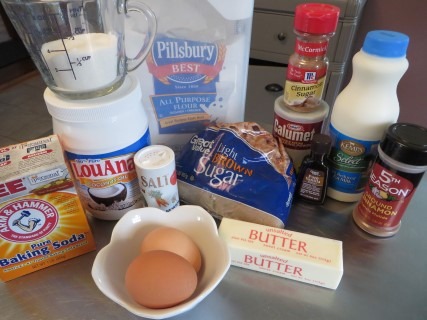 Directions:
1. Preheat your oven to 425 degrees.
2. Line a Muffin tin with paper Muffin cups, set aside.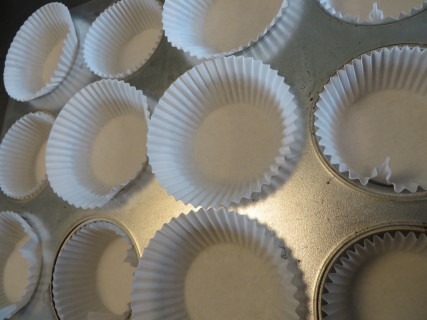 3. In a medium size bowl add the Flour, Salt, Baking Soda and Baking Powder. Stir together with a fork and set aside.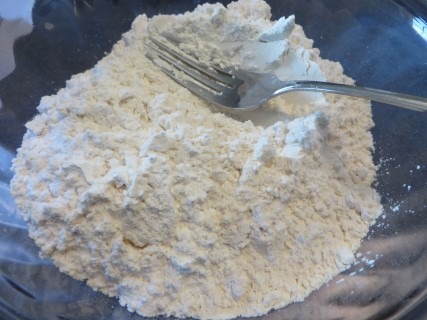 4. In a large mixing bowl cream together the Butter and Coconut Oil with a hand held mixer.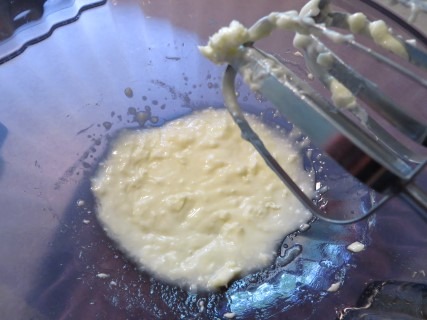 5. Next mix in the Eggs and Vanilla mixing until smooth.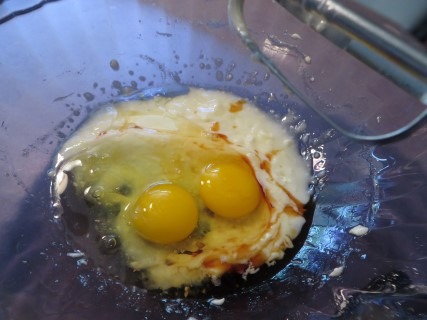 6. Now add in the Sugar, Brown Sugar and Cinnamon. Mixing well with your handheld mixer.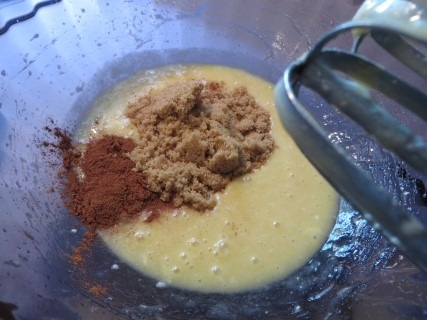 7. Next slowly add the Flour mixture and alternate with the Milk. Scraping the sides as you go mix until all the ingredients are well combined.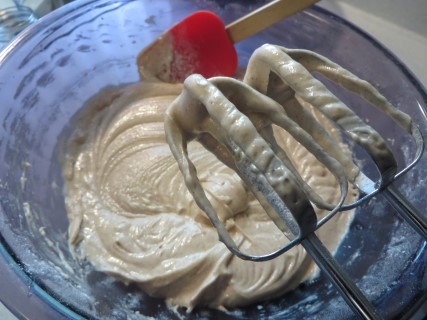 8. Time to fill the Muffin cups. I suggest using a medium size spoon. If you use a larger spoon or a ladle, you will find you get spills on the edges of the Muffin cups and those have a tendency to burn when baking. A medium size spoon gives you more control when you just aim for the center of the cup. Fill the cups pretty close to the top. You will have enough batter for 12 Muffins, but you may find you have a bit extra if your Eggs were extra large or your batter expanded so if you do just fill a few extra cups and bake them up too! I had enough batter for 2 extra Muffins.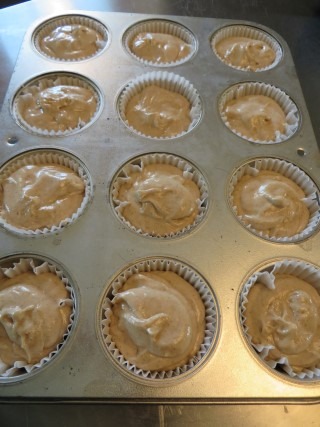 9. Bake the Muffins for 20-30 minutes. All ovens cook differently so check at the 15 minute mark. This is my batch of Muffins at the 15 minute mark. Rising nicely, coming along but needs more time to bake.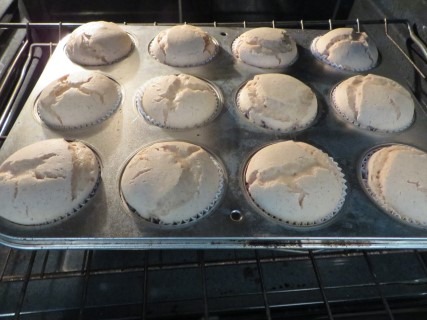 10. The Muffins are done when they have a nice golden brown color and a toothpick inserted in the center comes out clean. Immediately when you take them out of the oven, sprinkle them with the Cinnamon Sugar. About a teaspoon per Muffin as you see here.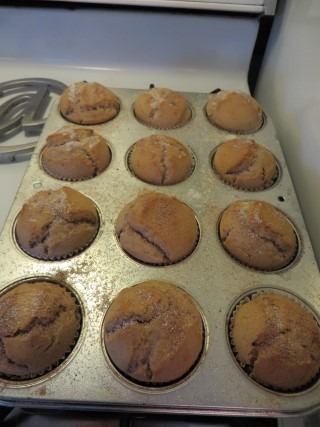 11. Allow the Muffins to cool for 5 minutes then transfer them to a cooling rack.
Serve these warm with a dollop of sweet cream butter or at room temp with a little ginger honey. Either way, they won't last long!
Recipe by: Hot Dish Homemaker