Cinnamon Caramel Rolls With Almond Frosting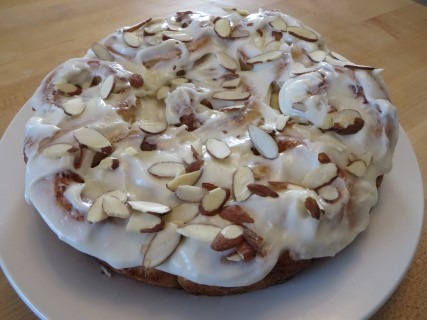 I usually make these delicious Rolls on a Holiday or when we have overnight guests.
Cinnamon Rolls originated in Sweden. Here in Minnesota, many restaurants offer these delicious treats on their breakfast menus. Some cafes and restaurants serve giant Cinnamon or Caramel Rolls that definitely need to be shared.
This recipe isn't entirely from scratch. We are using Frozen Bread Dough for our base. These are still semi-homemade and have a wonderful texture and flavor. The addition of Almond Frosting is really what tops these Rolls of nicely.
This recipe makes 2 round cake pans of Rolls. I always say I am going to freeze the second pan for another mornings breakfast but, I never have any left!
CINNAMON CARAMEL ROLLS WITH ALMOND FROSTING 
Ingredients:
1 Loaf Frozen Bread Dough, thawed
1/2 Cup + 5 Tablespoons Unsalted Butter, softened
1 Cup Brown Sugar
1 Tablespoon Cinnamon
2 Cups Powdered Sugar
1 Teaspoon Almond Extract
1/2 Cup Heavy Cream
1/3 Cup Sliced Almonds
Direction:
1. Thaw Bread Dough overnight in refrigerator according to package directions.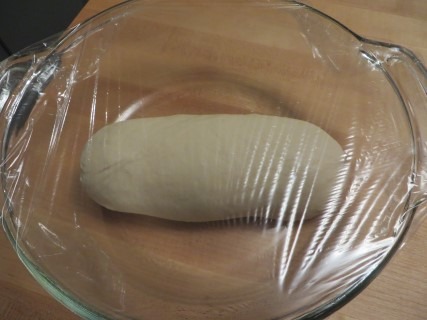 2. On a floured surface, roll out thawed Bread Dough to about 12 x 7.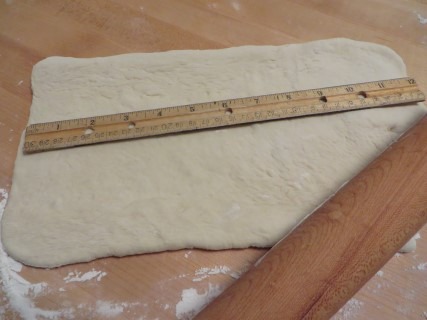 3. Spread 1/2 Cup of the softened Butter over the surface of the Dough.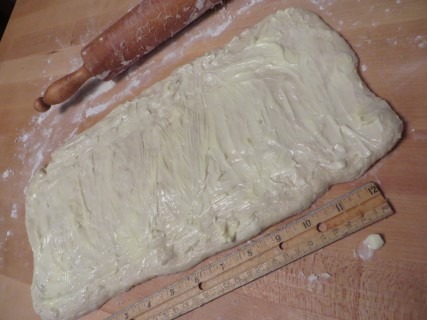 4. Sprinkle the Cinnamon evenly over the butter followed by the Brown Sugar.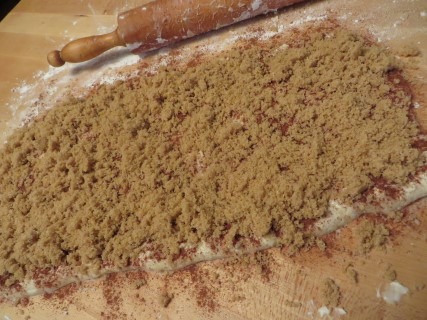 5. Roll up the Dough starting at the long side, Then cut into 14 slices. Spray 2 round cake pans with non stick cooking spray then place 7 rolls in each pan as you see here. Keep them about 2 inches apart because they are going to rise.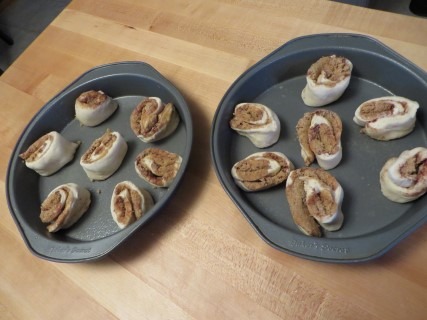 6. Spray one side of 2 pieces of foil with non stick cooking spray. Set them on top of each pan with the sprayed side on the rolls. Do NOT wrap the foil around the edges. The foil merely prevents the Rolls from drying out but it needs to be loose because they are going to rise. Set the pans in a warm place for 1-2 hours until they have doubled in size. I usually warm my oven then turn it off then set the covered pans inside with the door open. Make sure the oven is just warm and not on…we don't want to start cooking the rolls, we just want them to rise as you see here.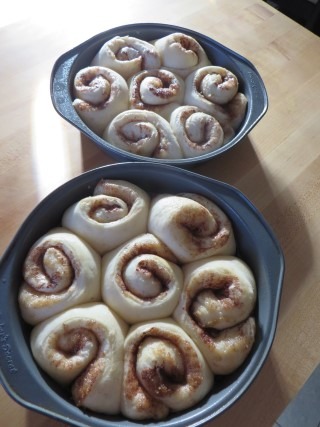 7.  Preheat your oven to 350 degrees. Remove the foil from the tops of the rolls and bake for 20-25 minutes. The Rolls should be a light golden brown color.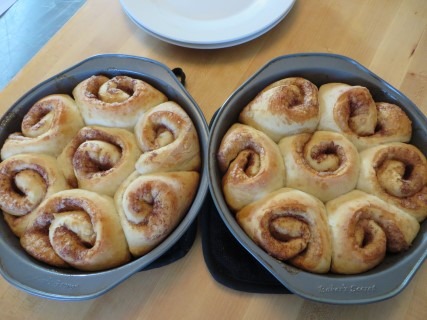 8. Allow the Rolls to cool slightly then invert onto a serving plate to finish cooling. We don't want the Caramel side to stick to the pan!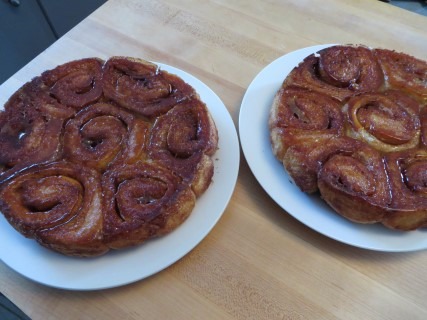 9. Time to make the Frosting! In a small sauce pan, melt the 5 tablespoons of Butter. Remove from the heat and allow to cool slightly. Add the Almond Extract, Powdered Sugar and the Cream. Whisk together until the Frosting is smooth.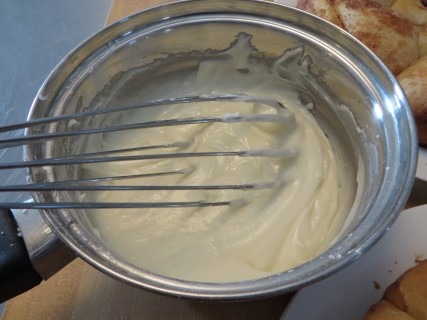 10. Flip the Rolls over. We are going to frost the top, we don't want to frost the Caramel side. Evenly spread the Frosting on the tops of the Rolls with a frosting Spatula.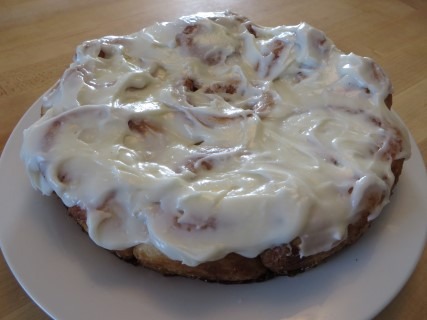 11. Lastly we are going to sprinkle the Almonds on top. If you have someone that does not like nuts, you can leave one plate with no Almonds. For me, the Almonds really are the finishing touch.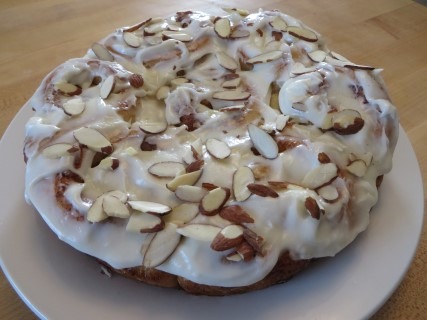 ~Breakfast is ready! You can serve these with a dollop of sweet cream butter. They won't last long.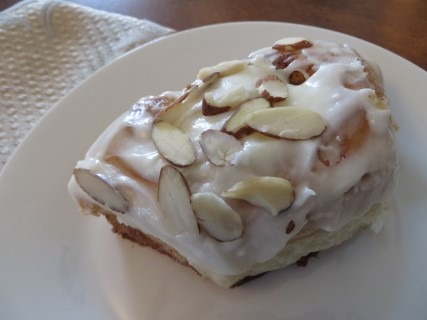 Recipe by: Hot Dish Homemaker