Cilantro Lime Chicken On Tortillas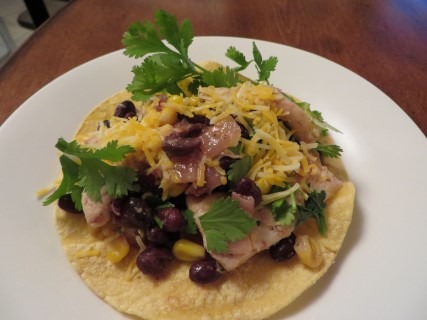 Lime and Cilantro wake up the flavors in this dish! 
Everyone loves Tacos but you need to experiment and get some new flavor sensations on top of your Tortilla! In this dish we use Chicken Breast, Corn and Black Beans then the Lime and Cilantro top everything off.
If you have an Herb garden, this is a great dish to showcase your Cilantro!
I would definitely put this recipe in the Tex Mex category. This is also a family friendly recipe, not too spicy for the kids, easy to put together and easy to serve.
I loved the flavors in this dish so much, I kept thinking about it all night after dinner and into the next morning. I had to have leftovers for breakfast!
CILANTRO LIME CHICKEN ON TORTILLAS
Ingredients:
 1.25 Pounds Boneless skinless Chicken Breast, cut into thin slices
1 (15 oz. ) Can Black Beans, drained and rinsed
1 Cup Frozen Corn, thawed
6-8 Corn Tortillas
2 Limes, zest and juice
3/4 Cup Cilantro, rough chopped
2 Tablespoons Olive Oil
1 Cup Red Onion, diced
1/2 Cup Kraft Zesty Lime Vinaigrette, or make your own
1 & 1/2 Cups Marble Jack Cheese
1 Teaspoon Mrs Dash Extra Spicy
Freshly Ground Black Pepper
Directions:
1. In a large sauté pan, add 1 Tablespoon of the Olive Oil and the Red Onions. Cook just until translucent over medium heat.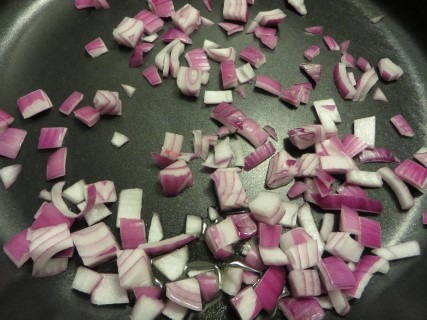 2. Add the remaining Olive Oil and the Chicken. Then sprinkle with the Mrs. Dash Seasoning and give a few turns of your Pepper mill over all. Cook over medium heat until no longer pink.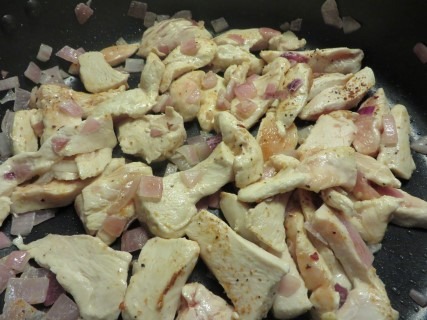 3. Stir in the Corn and Beans.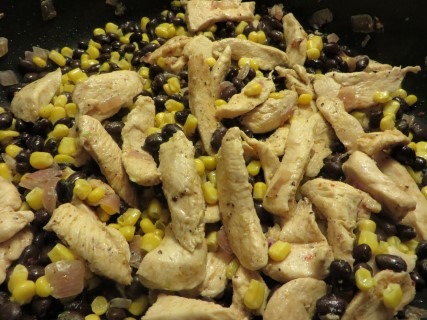 4. Add the Lime zest over all in the pan and Squeeze the Juice from one of the Limes over all in the pan. Next stir in the Lime Vinaigrette and continue to cook just until all the ingredients are heated through.
5. Just before removing from the heat stir in 1/4 Cup of the Cilantro. Cover the pan to keep the heat in until you have your Tortillas warmed.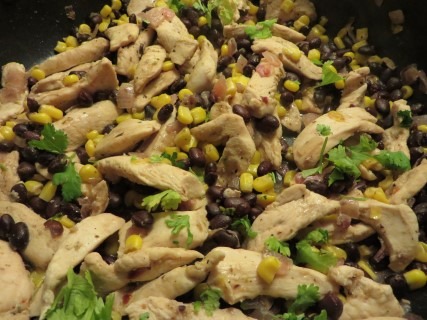 6. Time to warm up your Tortillas! I just put mine in a nonstick pan to warm them, occasionally flip them and when you see just a hint of golden brown they are ready.
7. To serve, add a scoop of the Chicken mixture on the Tortilla, then add about a Tablespoon of Cheese on top of the warm mixture, followed by a sprinkle of Cilantro. To top it all off, give a little squeeze of the second Lime on each Tortilla to really give it a nice kick.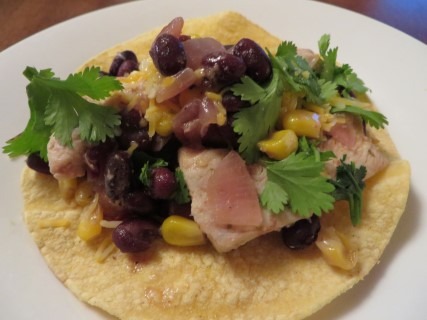 Recipe by: Hot Dish Homemaker