Chorizo Sausage Egg Bake Casserole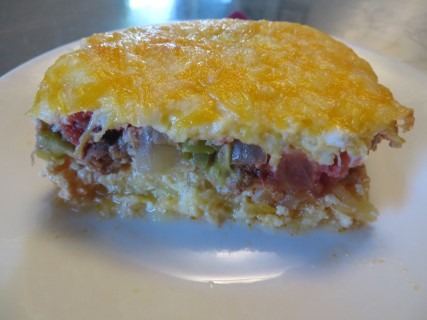 This Egg Bake Casserole is cheesy and a bit spicy. Great for a brunch or even dinner.
If you are not familiar with Chorizo Sausage its origin is Spanish and it is made from Pork. It is usually spicy and has a slight reddish color prior to cooking as paprika is one of the seasonings. It is usually sold in casings which I removed to make this recipe.
I am also using Spaghetti Squash in this recipe. Spaghetti Squash is great on its own but you can also use it in place of hash brown potatoes or even spaghetti noodles.  If you have never made it, you are in for a real treat. I will explain how to cook the Spaghetti Squash below. You will need to cook it prior to using it in this recipe.
CHORIZO SAUSAGE EGG BAKE CASSEROLE
Ingredients:
6 Eggs
1 Pound Chorizo Sausage
4-5 Cups Cooked Spaghetti Squash
1 Medium Yellow Onion, diced
3 Cups Mexican Cheese Blend
1 (16 oz.) Jar Salsa
1 Cup Heavy Cream
1 (4 oz.) Can Fire Roasted Diced Green Chiles
1 (2.25 oz.) Can Sliced Black Olives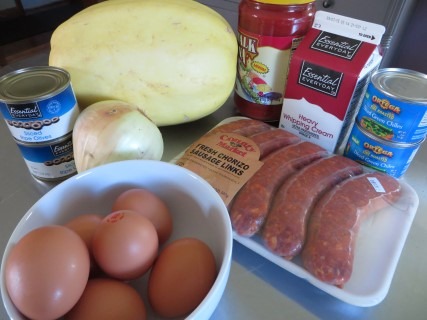 Directions:
1. Preheat your oven to375 degrees. Now we need to prepare the Spaghetti Squash before baking it. I decided to include directions on how to do this since some of you have not made Spaghetti Squash before. It is very simple. Slice the Squash in half lengthwise and in the center you will see seeds and some slimy strands, just like the inside of a pumpkin. You need to scoop that out with a spoon as you see here.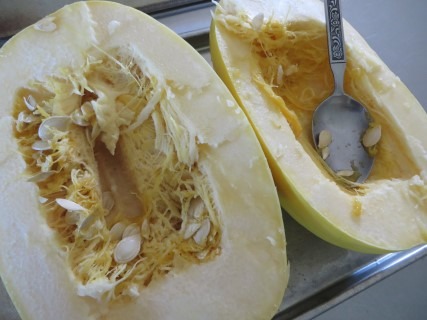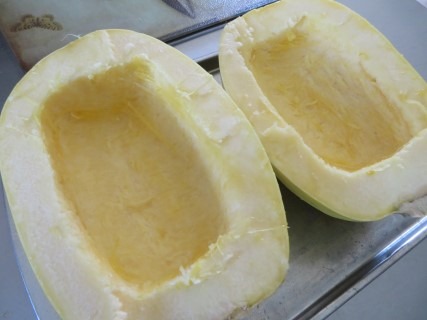 2. Now just put the Spaghetti Squash on a baking tray and cook for about 35-40 minutes. The Squash should be fork tender.
3. When it is done remove it from the oven and allow it to cool.
4. While waiting for the Squash to cool lets cook the Onions and Sausage. Remove the Sausage from the casing and crumble it into a large frying pan. Add the diced Onions into the same pan.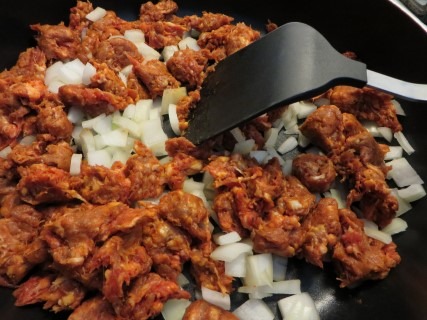 5. Cook until the Sausage is browned and the Onions are tender.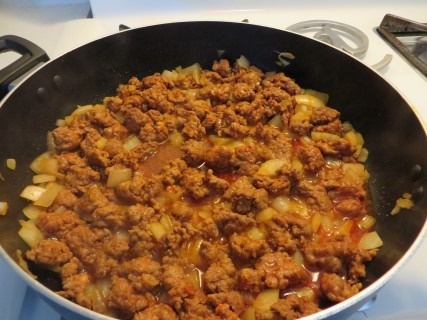 6. Drain off any excess grease and allow the Onions and Sausage to cool.
7. Back to our Spaghetti Squash! It should be cool enough to handle now so grab a fork and merely drag it across the inner surface and you will see it comes out of the skin looking like spaghetti or shredded potatoes as you see here.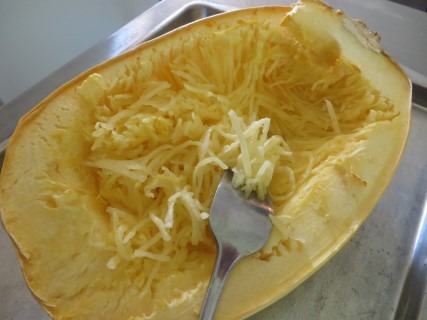 8. Continue until you have removed all the flesh from the shell. You should get about 4-5 cups.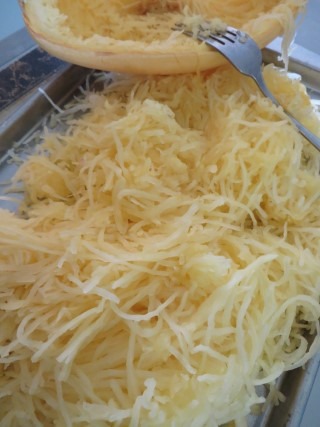 9. Spray a 9 x 13 baking dish with non stick cooking spray. Add the Spaghetti Squash into the pan in an even layer.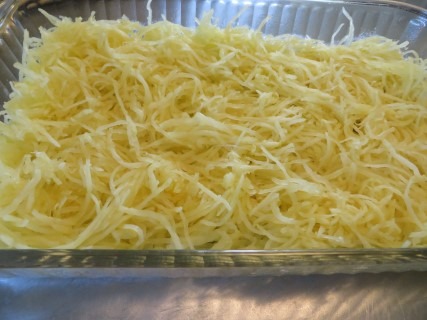 10. Next we are going to add the Sausage and Onion to the pan in an even layer on top of the Spaghetti Squash.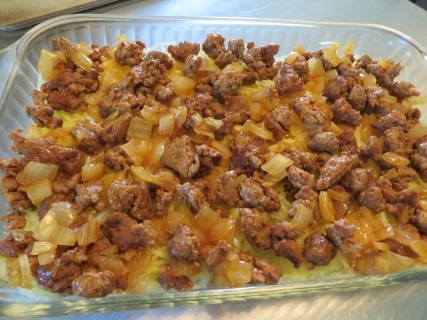 11. Now add the Green Chiles and Black Olives over the Sausage in an even layer.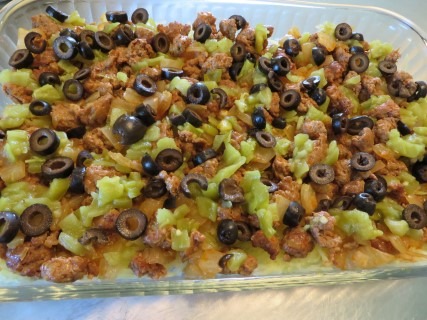 12. It is Salsa time! Spread the Salsa evenly in the pan using a spatula.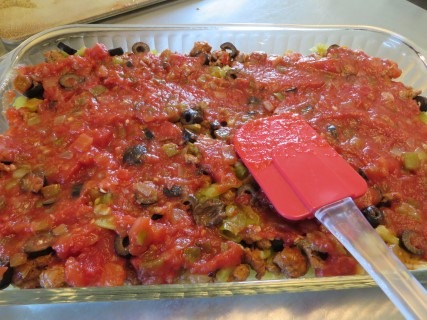 13. Now sprinkle 1 & 1/2 Cups of the Cheese evenly on top of the Salsa.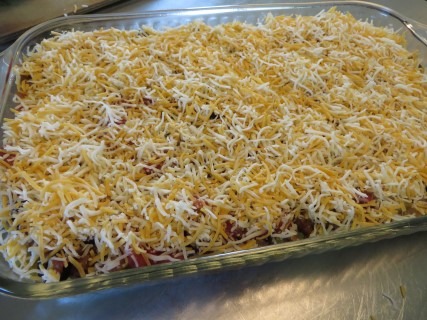 14. In a medium size bowl, whisk together the Eggs and Heavy Cream.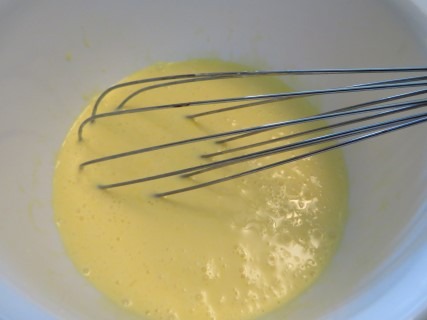 15. Pour the Egg mixture evenly over the Cheese layer in the pan.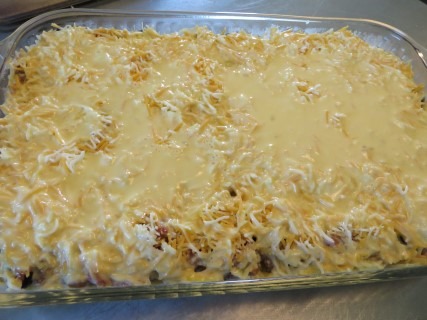 16. Now top the Egg layer with the remaining Cheese (1 & 1/2 Cups).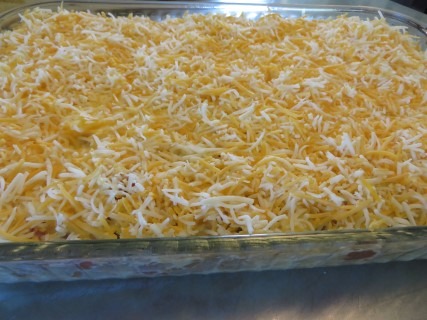 17. Now cover the pan and refrigerate for 6-8 hours.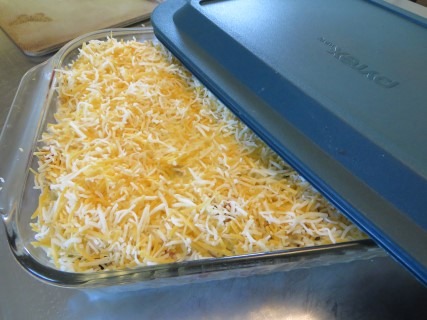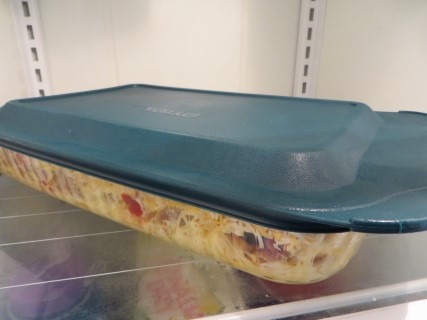 18.  After the Egg Bake Casserole has chilled for 6-8 hours, preheat your oven to 350 degrees. Bake the Egg Bake Casserole for 50-60 minutes uncovered.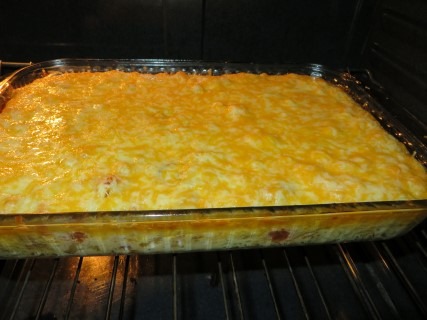 19. You will know when the Egg Bake Casserole is done when it is bubbly the Cheese is all melted and slightly browned on the edges.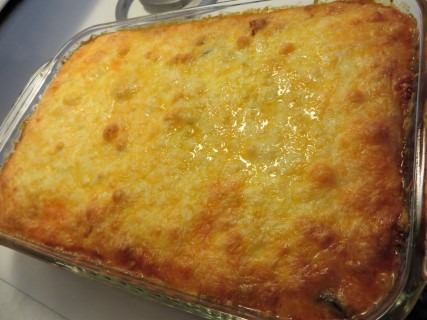 20. Let the Egg Bake Casserole cool for 3-4 minutes before cutting into it. Just like lasagna, you don't want all your fillings to fall out when you cut it.
Serve this with a side of Sour Cream and a little hot sauce if you are so bold!
By the way if you are on a low carb  diet….this fits right in!
Recipe by: Hot Dish Homemaker