Chicken Pesto Pasta Salad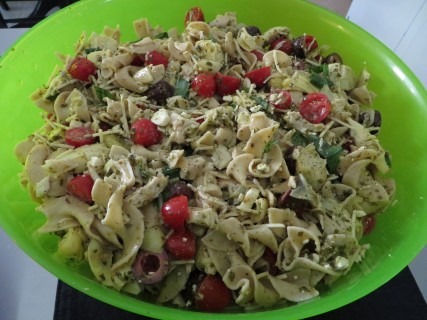 Here is a flavorful Pasta Salad that is great to bring to a picnic, barbecue or to add to the buffet table.
This recipe is for a crowd. Cut the recipe in half to make a great light lunch or summer Dinner Pasta Salad for the family.
This recipe calls for Burgundy Olives. They are readily available at most grocery stores. They have a lovely Burgundy color as you would expect due to their name and a great traditional olive flavor.
CHICKEN PESTO PASTA SALAD 
Ingredients:
3/4 Cup Fresh Basil Leaves, chiffonade (cut into thin strips)
28 oz. Marinated Artichoke Quarters, diced
6 oz. Burgundy Olives, sliced
2 Pints Grape Tomatoes, halved
18 oz.  Whole Grain Extra Wide Pasta Noodles
12 oz. Basil Pesto, homemade or from a jar
3-4 Tablespoons Olive Oil
1 Cup Parmesan Cheese, shredded
5 oz. Feta Cheese, crumbled
Juice from 2 Lemons
1 Rotisserie Chicken
Freshly Ground Black Pepper
Directions:
1. Cook the Pasta as directed on package. Rinse in cold water and drain. Set aside.
2. Remove the Chicken from the bones. Remove all skin and fat then dice the meat into 1 inch pieces.
3. Place the Pasta in a large bowl. Add the Olive Oil and Pesto. Stir gently to coat all the noodles.
4. Fold in the Chicken, Tomatoes, Olives, Artichokes, Basil and Cheeses.
5. Squeeze the Lemons over the Pasta then add Freshly Ground Black Pepper. Stir all the ingredients together well.
6. Chill Pasta for at least an hour before serving. You may make this ahead of time and chill for up to 4 hours. Just make sure you stir the Pasta prior to serving.
~Store leftovers in the refrigerator tightly covered for up to 3 days.
Recipe by: Hot Dish Homemaker