Chicken Basil Couscous With Artichokes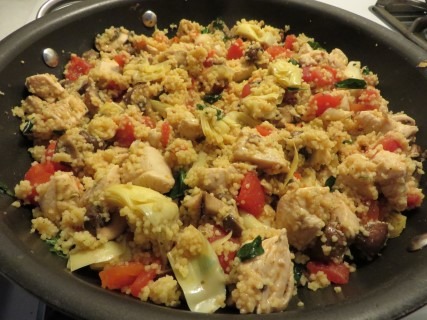 Sautéed Chicken with the flavors of Basil and Artichokes topped with a little Parmesan Cheese…this is a great meal all in just one dish!
One dish meals are great because they save time and you have less dishes to wash! Preparing a home cooked meal doesn't have to be a big production. This meal is quite simple to put together and brings in great robust flavors of Basil and Artichoke. It is colorful and plates well.
Basil is a very good source of vitamin A (through its concentration of carotenoids such as beta-carotene). Called "pro-vitamin A," since it can be converted into vitamin A, beta-carotene is a more powerful anti-oxidant than vitamin A and not only protects epithelial cells (the cells that form the lining of numerous body structures including the blood vessels) from free radical damage, but also helps prevent free radicals from oxidizing cholesterol in the blood stream.
Artichokes are a good source of folate, dietary fiber, and vitamins C and K. Artichokes are also packed with antioxidants; they're number 7 on the USDA's top 20 antioxidant-rich foods list.
CHICKEN BASIL COUSCOUS WITH ARTICHOKES
Ingredients:
3 Whole Skinless Boneless Chicken Breasts, diced into 1 inch pieces
3 Cups Cooked Couscous
8 Ounces Baby Bella Mushrooms, quartered
1/2 Cup Fresh Basil Leaves, cut larger leaves in thin strips/smaller leaves can go right in
8.5 Ounce Jar of Marinated Artichoke Hearts, quartered
14.5 Ounce Can Diced Tomatoes with Basil-Garlic-Oregano, drained
1 Tablespoon Olive Oil
Fresh Cracked Black Pepper
Parmesan Cheese, shredded
Directions:
1. In a large sauté pan, add the Olive Oil and the Diced Chicken and cook over medium heat until the Chicken is almost cooked thru. Then add the Mushrooms and Freshly Ground Black Pepper and continue to cook until the Mushrooms are tender.
2. Next add the Tomatoes and Artichoke Hearts cook for another 1-2 minutes.
3. Now add the Couscous, Basil, and a dash more Freshly Ground Black Pepper. Stir all ingredients together well and cook just until all the ingredients are heated through and the basil is slightly wilted.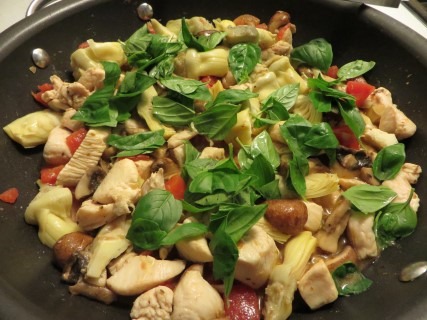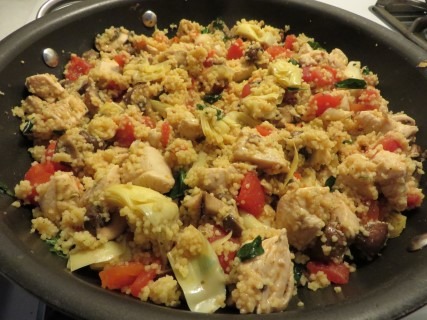 4. You are ready to serve! Top each plate or dish with the desired amount of Shredded Parmesan Cheese sprinkled on top.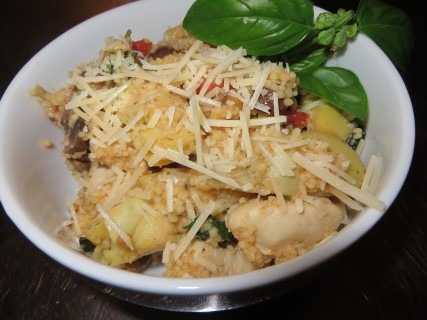 Recipe by: Hot Dish Homemaker