Chicken Ala King Recipe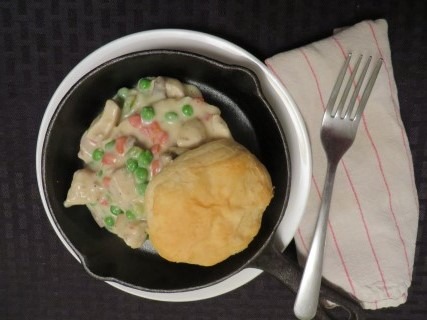 When it starts to get cold here in Minnesota where I live, cravings for comfort food start to arise. I was craving Chicken Ala King for some odd reason. I hadn't had it in years. I began looking at a few recipes and most called for cooked Chicken and also used a canned soup in the recipe. I however wanted to use Chicken Breast that I had purchased from the market and wanted to stay away from adding canned soup in the recipe. 
I wondered what the origins of Chicken Ala King were and what the original recipes called for. With such a grand name, surely there had to be some fabulous story behind this recipe name. If you start doing research, you will find many stories in regards to where this recipe and name were developed.
One claims it was created by Delmonico's chef Charles Ranhofer as Chicken ala Keene in the 1880s, named after Foxhall Parker Keene. Another version claims it was created in 1881 at Claridge's Hotel in London and named for James R. Keene, father of Foxhall. Another account claims chef George Greenwald of the Brighton Beach Hotel in Brighton Beach created it in 1898, naming it after patron E. Clarke King II and his wife.
The most likely account is that Chicken Ala King was created in the 1890s by hotel cook William King of the Bellevue Hotel in Philadelphia. Several obituaries in early March 1915 credited King after he died.
So in conclusion, there is no clear cut answer on where the recipe originated, nor is there one distinct recipe. I know there are a few main ingredients that appear in most recipes and that is of course, Chicken then next in line we have Cream, Peas, Green Pepper and Mushrooms. It also appears it was originally served on toast however when viewing many of today's recipes, a lot of people also serve it over rice or noodles.
My recipe is going to be served over Biscuits. Here is my version/recipe for Chicken Ala King:
CHICKEN ALA KING RECIPE
Ingredients:
3 Boneless Skinless Chicken Breasts, cut into bite size pieces
1/2 Cup Butter
1 Medium Green Pepper, diced
1 & 1/2 Cups Heavy Cream
1 & 1/4 Cups Chicken Broth
1 (4 oz.) Jar Diced Pimentos
1 Cup Frozen Peas, thawed
1 Cup Button Mushrooms, diced
1/2 Cup Flour
1/2 Cup Red Onion, diced
1/2 Tablespoon Garlic Powder
1/2 Tablespoon Olive Oil
2 Tablespoons Montreal Chicken Seasoning
Freshly Ground Black Pepper
Biscuits (I used Grand Biscuits from the dairy case or you can bake your own from scratch)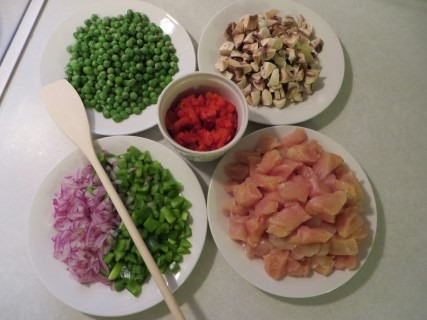 Directions:
1. Bake Biscuits according to package directions. While they are baking you can prepare the Chicken Ala King. Of course if you are really ambitious, and have the time, you can make Biscuits from scratch prior to making this dish.
2. Sprinkle the Montreal Chicken Seasoning over the Chicken pieces. Drizzle the Olive Oil in a large skillet over medium heat. Add the Chicken and cook until done, then remove the Chicken pieces and set aside.
3. Reduce the heat under your skillet to low. Add the Butter to the skillet and once the butter has melted, add the Onions and Green Pepper and increase the heat to medium. Cook until tender. Next add in the Mushrooms. The Mushrooms will cook quickly so stir often.
4. Next stir in the Flour to the Veggie mixture.
5. Slowly stir in the Chicken Broth and the Heavy Cream, stirring constantly. Sprinkle in the Garlic Powder and give several turns of the pepper mill over all. Continue to cook over medium heat until the Sauce is thick.
6. Add the Chicken back into the Sauce, continue to stir and heat to boiling. Cover reduce the heat to low and let the Sauce simmer for about 4-5 minutes.
7. Add in the Pimentos and Peas then give the pepper mill another work out and add a bit more Black Pepper. Stir well for 1-2 minutes to ensure the Pimentos and Peas are incorporated in the Sauce and then you are ready to serve!
8. Slice your Biscuits in half then spoon the Chicken Ala King over the top.
This is a great dish to serve on a cold day. I definitely satisfied my cravings!
Fill your families tummies with this hearty meal!
Enjoy!
Recipe by: Hot Dish Homemaker