Cherry Pineapple Chicken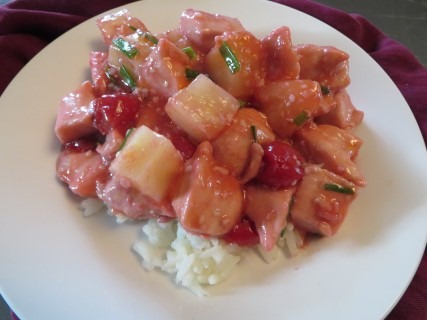 This is a very easy recipe using ingredients from your pantry and fresh Chicken Breasts to create a colorful, delicious Chicken dish.
I guess you could say this Chicken dish has a bit of  Hawaiian flair to it. Normally you think of Cherries and Pineapple with ham but they also pair well with Chicken.
If you have problems getting your sauce or glaze just right, this recipe uses good old Cherry Pie filling to take care of that for you. We have also added a bit of spice so this dish isn't overly sweet.
A lot of us have busy schedules and we want to serve meals that are not the same ordinary Chicken, but you may not always have a lot of time. Most of these ingredients can be kept right in your pantry so all you need to do is add fresh Chicken and fresh Green Onions, and you can make this dish with ease in no time at all.
CHERRY PINEAPPLE CHICKEN
4 Boneless Skinless Chicken Breasts, cut into 1 inch cubes
1 (21 oz.) Can Cherry Pie Filling
1 (15 1/4 oz.) Can Pineapple Chunks, drained
1 Tablespoon Minced Garlic
4 Stalks Green Onion, diced
2 Tablespoons Chili Oil
2 Tablespoons Sesame Oil
2 Teaspoons White Pepper
1 & 1/2 Tablespoon Sesame Seeds
1 Tablespoon Canola Oil
Cooked White Rice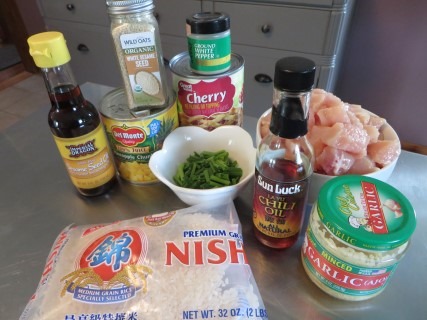 Directions:
 1. Add the Canola Oil to a large sauté pan over medium heat. Add in the Chicken, and sprinkle the Chicken with the White Pepper. We are going to now sauté the Chicken but don't cook it all the way through. It will continue to cook in our sauce. Cook until all sides have turned white, we don't want the outer portion to still be pink. You can see here in this picture the Chicken is starting to turn white on the outside and once all of the pieces have done so, we can start adding our other ingredients.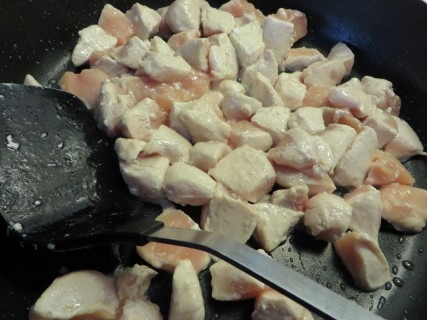 2. Next we are going to add the Garlic and Cherry Pie Filling. Cover the pan and cook for 4-5 minutes.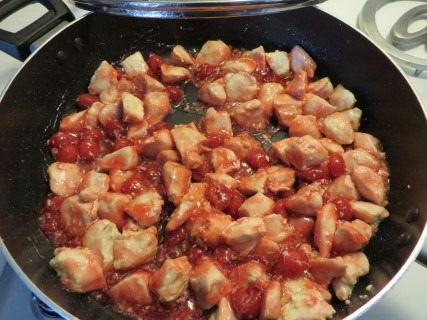 3. You can see our Chicken is cooking down a bit more now. So let's add in the Green Onion. Cook for 1-2 minutes with the lid on then we can add in the Sesame Oil, Chili Oil, Sesame Seeds and the Pineapple Chunks. Give everything a good stir and put the lid back on and cook another 3-4 minutes.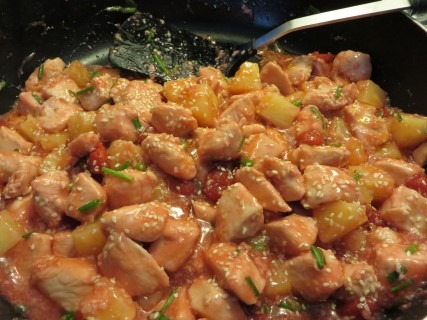 4. Our dish should be close to being done now. You are looking for the sauce to be thick and the Chicken will now actually look slightly pink in color….not because it is not done but because the Cherry filling will create a nice pink colored sauce. You can always check your Chicken with a meat thermometer if you are not sure if it is done. Look for a temp of around 180 degrees.
5. Serve the Cherry Pineapple Chicken over White Rice. I like to use Sushi Rice but any White Rice will be fine.
~I think you will find even the kids love this dish. Most kids love Cherries so having them in their entrée makes this dish special.
Recipe by: Hot Dish Homemaker