Cheesy Tuna Pasta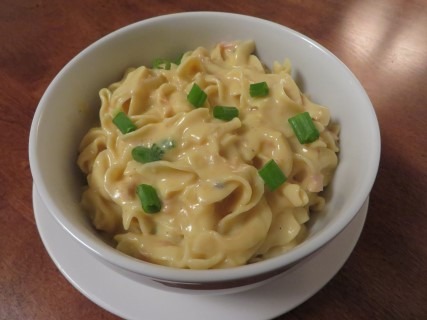 This Recipe is one of my versions of good old fashioned Tuna Casserole. However, I am not baking this version. I am just using a simple stove top method to create an extra Cheesy, Tuna Pasta dish.
This is easy to throw together because you probably have most of the ingredients in your pantry and refrigerator. It is really a simple weeknight family dinner or maybe a quick weekend lunch. I incorporated more Cheese into this one just so it has more appeal to the kids and teens. Put Cheese on anything and they will eat it!
Seriously, Tuna and Cheese are a great combination and the Wide Egg Noodles are a perfect vessel to carry these flavors.
When planning your weekly menu, purchase ingredients to make this for your family one evening. It is a change of pace from meat and potatoes and with its simplicity, everyone is sure to enjoy it.
CHEESY TUNA PASTA 
Ingredients:
3 (5 oz.) Cans Tuna in water, drained
1 (10 1/2 oz.) Can Cream Of Mushroom Soup
1 (16 oz.) Package Velveeta Cheese
8 Ounces Colby Jack Cheese, shredded
1 (1 lb.) Package Wide Egg Noodles
1 Cup Milk
2/3 Cup Green Onions, diced
Freshly Ground Black Pepper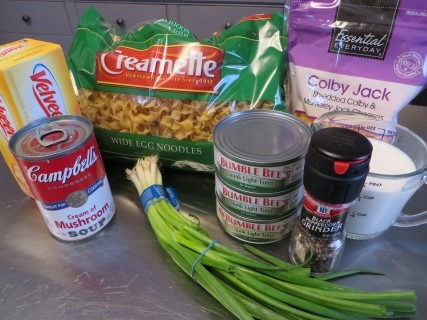 Directions:
1. In a large saucepan add the Milk, Cream Of Mushroom Soup, Velveeta and Green Onions.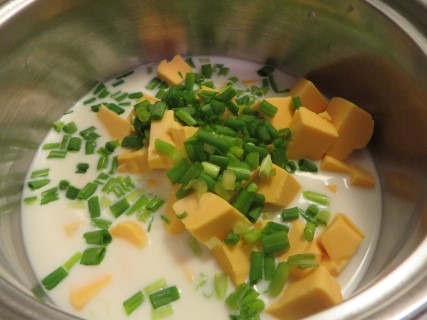 2.  Cook over low heat until the Velveeta Cheese just starts to melt, then stir in the Colby Jack Cheese. Let it cook for a few minutes so the Cheese can continue to melt.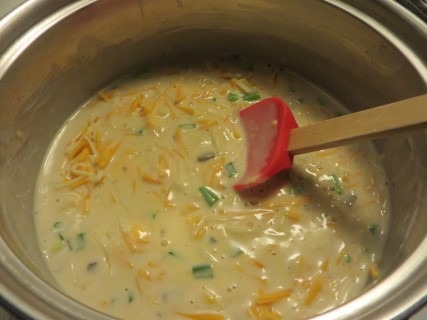 3. Next stir in the Tuna and give your Pepper Mill a few good turns over the Cheese Sauce.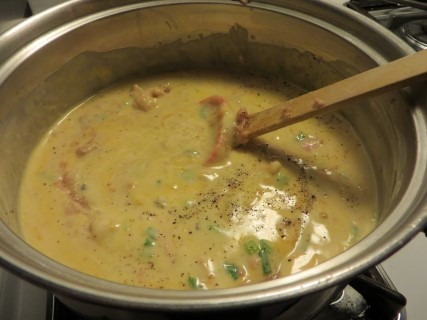 4. Cover the Sauce and let it cook for a bit longer to incorporate all the flavors and ensure all the gooey Cheese is melted. Keep giving it a good stir every now and then so the Sauce doesn't stick or burn on the bottom of the pan. This Sauce is meant to be thick and Cheesy, but if your Sauce is getting a bit too thick during the cooking process, just add a bit more Milk.  Now, while the Sauce is finishing up, cook your Pasta Noodles as directed on the package.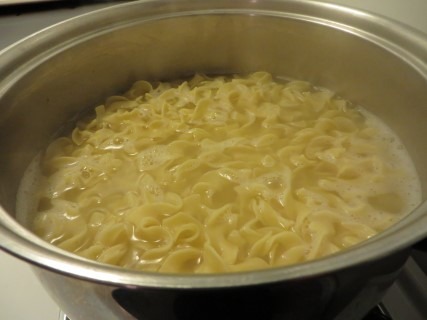 5. Drain the Noodles and add them back to the pan that you cooked them in. Pour the Sauce over the Noodles and stir well. As you can see, it is ooey gooey Cheesy!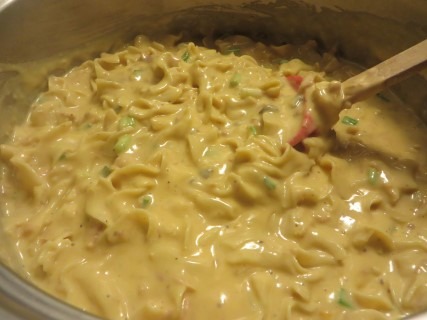 ~Serve this piping hot with a napkin of course to wipe up any excess Cheese!
Recipe by: Hot Dish Homemaker