Champagne Pork Roast With Butternut Squash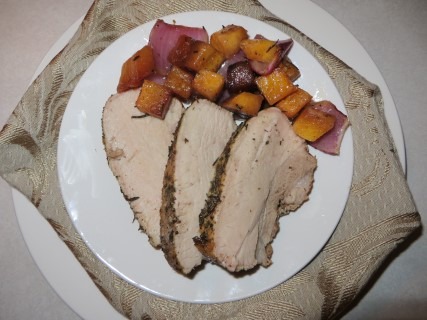 Who doesn't love the smell of Pork, slow roasting in the oven with hints of Rosemary and Thyme.
I love Butternut Squash but I have such a hard time cutting it up. I realized most grocery stores in my area now sell it already peeled and cubed! So if you are like me and you hate the chore of peeling and chopping Butternut Squash, take a look in the produce section of your market, I am sure they also carry the "ready to go for cooking" version.
CHAMPAGNE PORK ROAST WITH BUTTERNUT SQUASH
Ingredients:
2 LB. Boneless Sirloin Pork Roast
1 &1/2 Cups Butternut Squash, cut into cubes
1 Medium Size Red Onion, rough cut into chunks
1 Stick Organic Butter
3 Tablespoons Olive Oil
4 Tablespoons Fresh Rosemary
1 Teaspoon Poultry Seasoning
1 Teaspoon Dried Thyme
Freshly Ground Black Pepper
1 & 1/4 Cup Rose Brut Champagne (use sparkling wine)
Directions:
1. Pour 1 Cup of the Champagne into a plastic gallon size re-sealable bag. Place the Pork Roast in the bag to marinate. Place the bag in the refrigerator for about 3 hours, then remove from the refrigerator 30 minutes before cooking.
We are using sparkling wine because true Champagne can be very expensive and you wouldn't want to waste it for cooking when you should be drinking it! Any inexpensive brand of bubbly will do. I used Jaume Serra Cristalino Rose Brut. Be sure to get Rose because it is a tad bit sweeter and that is what we are looking for in this recipe.
2. Preheat the oven to 325 degrees.
3. Remove the Pork Roast from the marinade and blot with a paper towel to dry.
4. In a small bowl combine 2 Tablespoons Olive Oil, 3 Tablespoons of the Rosemary, the Thyme and a few turns of Freshly Ground Black Pepper.
5. Use your hands and spread this mixture all over the Pork Roast. Give it a good rub!
6.  Next heat up a cast iron skillet on the stove top over high heat. Add 1 Tablespoon Olive Oil to the pan then sear the Pork Roast quickly on all sides. Immediately move the Roast into an 8 x 11 Baking Dish.
7. Next turn the flame under the cast iron skillet to low and add the Butter and remaining Rosemary to the pan to melt.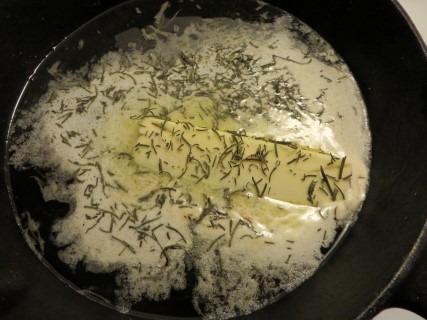 8. Place the Butternut Squash and Red Onion around the Pork Roast in the baking dish.
9. Add 1/4 Cup of the Champagne to the Melted Butter, stir and remove from the heat. Pour this mixture over the Roast and Vegetables in the baking dish as you see here. Then give another few turns of the Pepper mill over all.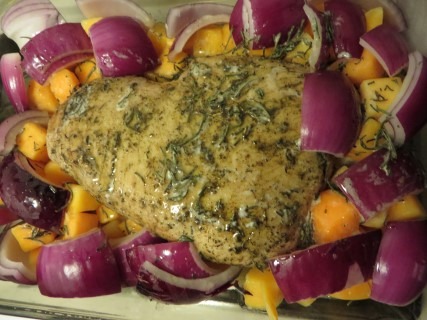 10. Time to bake the Roast! Pop the baking dish in the preheated oven and set the timer for 1 hour. Your Roast will more than likely take more time to cook. Mine took 1 and 1/2 hours to reach an internal temperature of 150 degrees. I am always preaching this "all ovens cook differently" so check your Roast with a meat thermometer at 1 hour and if it hasn't reached the proper temp of 150 degrees, set the timer for 15 minutes. Check again and add another 15 minutes if you need to.
Pork can get very dry so we don't want to overcook it. Remove it at 150 degrees because your meat continues to cook after it comes out of the oven.
11. Once your Pork Roast has reached 150 degrees and the Butternut Squash is tender, remove it from the oven. Take the Pork Roast out of the pan and place it on a cutting board and loosely cover with foil and wait 10 minutes. Cover the Squash with foil too so it remains warm while waiting for the Pork Roast.
12. After 10 minutes, you can slice your Pork Roast.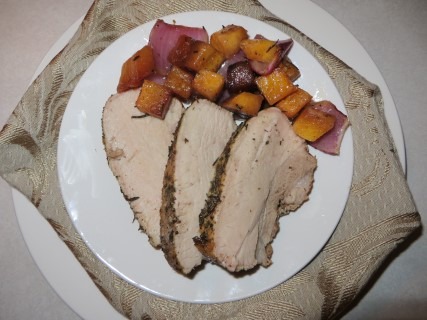 Your Pork Roast should be moist and tender and the Butternut Squash will melt in your mouth!
Serve this with a nice side salad, warm bread and of course, a glass of Rose Champagne!
Recipe by: Hot Dish Homemaker