Brownie Center Cookie Cups With A Kiss
I wanted to come up with something different for a Valentines Day Dessert. Chocolate is at the top of the list when it comes to this Holiday so why not have Chocolate 3 ways! Chocolate Chip Cookies, Brownies and Chocolate Kisses came to mind.
Sure I could have just made Cookies and Brownies and topped them with a Kiss but melding them together to create one dessert was my thought.
I decided I wanted to make Cookie Cups and fill them. I wasn't sure how baking them with Brownie batter inside would work out. Turns out, it works very well!
So I took a few shortcuts. I used frozen Cookie Dough and a box Brownie mix, which made this a VERY easy dessert to make. This recipe makes 9 Desserts and you will have a little left over Brownie batter which you can put in the 3 extra spots in your muffin tin to make 3 extra Brownie cupcakes.
A slightly crunchy Cookie texture outside and a moist Brownie on the inside topped off with a Kiss…a triple Chocolate treat!
Here is the recipe:
BROWNIE CENTER COOKIE CUPS WITH A KISS
Ingredients:
1 (18.3 oz.) Package Fudge Brownie Mix
1 (18 oz.) Bag Toll House Frozen Chocolate Chip Cookie Dough Cookies, (18 Cookie Dough Balls in pkg.)
9 Hershey's Kisses
2 Eggs
2/3 Cup Vegetable Oil
1/4 Cup Water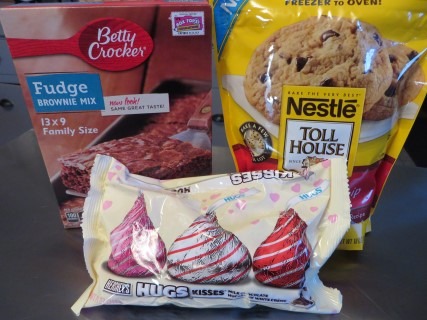 Directions:
1. Preheat oven to 350 degrees.
2. In a mixing bowl, stir together the Brownie Mix, Eggs, Oil and Water with a wooden spoon then set aside.
3. Spray a muffin tin with nonstick baking spray.
4. Press together 2 Cookie Dough balls in each muffin cup, to form and shape the Cookie Cups as you see here.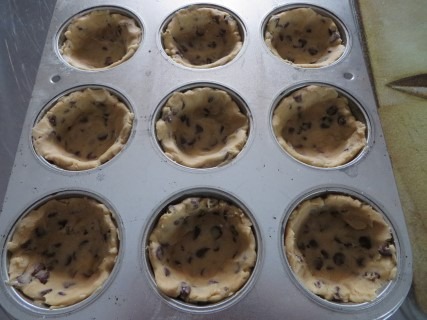 5. Now spoon about 2 -3 Tablespoons of Brownie Batter into each Cookie Cup, filling not quite to the top, as you see here.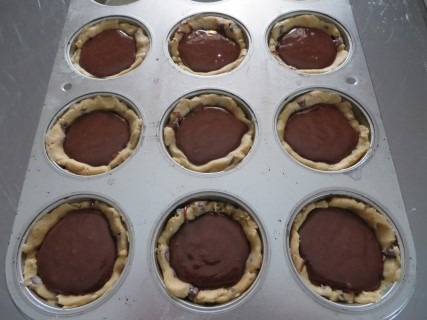 6. Place the Cookie Cups in the oven and bake for 20-40 minutes. All ovens cook differently so check at 20 minutes. You want the top edges to be golden brown on the Cookie Cup and check the center of the Brownie filling by inserting a toothpick in the center, if it comes out clean, then the Cookie Cups are done.
7. When done baking, remove from oven and let the Cookie Cups rest for 2 minutes still in the pan. After 2 minutes place 1 Kiss  on top of the Cookie Cup as you see here.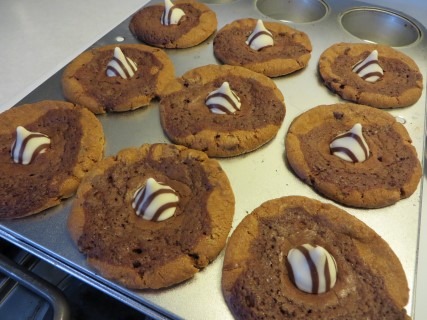 8. Set the timer for 10 minutes. Let the Cookie Cups cool for 10 minutes, still in the Muffin pan before removing them to a cookie cooling rack.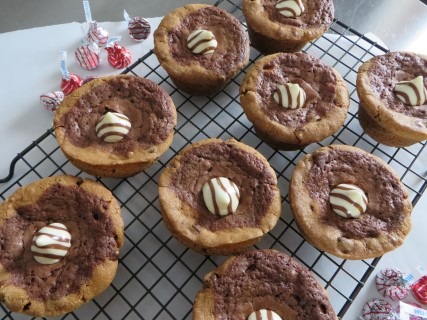 ~And there you have it! So simple to make yet oh such chocolate goodness!
I originally planned this as a Valentines Day Dessert but you could use this recipe for any occasion. Serve a scoop of vanilla ice cream along side this treat or serve with a nice dark roast coffee.
Enjoy!
Recipe by: Hot Dish Homemaker