Brandied Mushrooms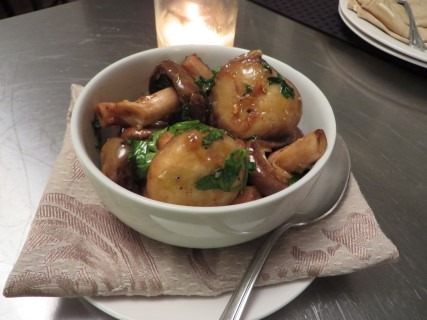 Brandied Mushrooms are a fantastic side dish to go with a big thick juicy steak, but don't limit its possibilities.
I have paired this side dish with Chicken, Turkey and even Pork Chops.
The Brandy and Brown Sugar glaze really brings out the earthiness of the Mushrooms. A simple yet elegant side dish. Mushrooms provide important nutrients for our diet so try including them in your dinner meal plan.
This recipe is very easy to make and the Mushrooms cook quickly. Give it a try!
BRANDIED MUSHROOMS 
Ingredients:
1 & 1/2 Pounds Whole White Mushrooms
1/2 Cup Butter
2 Teaspoons Minced Garlic
1/2 Cup Brandy
3 Tablespoons Brown Sugar
Salt and Freshly Ground Pepper
1/4 Cup Red Onion, thinly sliced and rough chopped
1/4 Cup Fresh Italian Flat Leaf Parsley, rough chopped
Directions:
1. In a large frying pan add the Red Onion, Garlic and Butter. Sauté until the Onion is translucent and tender.
2. Add the Mushrooms, and sprinkle with Salt and Pepper, then stir in the Brown Sugar. Cook for about 4-5 minutes to incorporate the Sugar.
3. Now add the Brandy slowly into the pan. Use caution when adding it to the pan, and by all means keep it away from the flame!  Continue cooking and stirring the Mushrooms until the Brandy is absorbed into the Mushrooms and the pan starts to deglaze as you see here.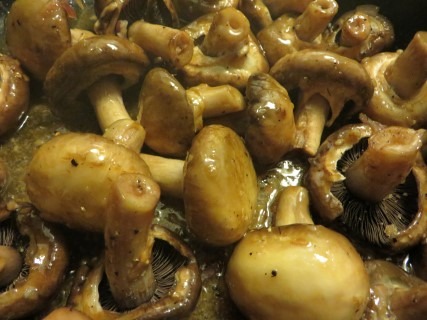 4. Lastly, fold in the Parsley, cook for 1 additional minute to slightly wilt the Parsley, then transfer the Brandied Mushrooms to a serving dish.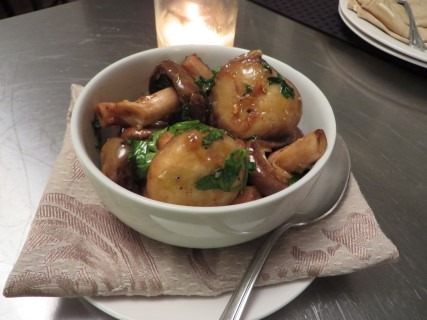 Enjoy!
 Recipe by: Hot Dish Homemaker