BLT Pasta Salad
A simple Pasta Salad but so perfect for the summer months.
This Salad is simply a BLT Sandwich except the Pasta replaces the bread. If you are growing Tomatoes in your garden, this is another good recipe to use them in.
Sure we all have our extravagant recipes with varying techniques and unusual ingredients. We do need to challenge our cooking skills and our taste buds but…. every once in a while, let the simple ingredients shine, especially if you can showcase your in season tomatoes fresh from your garden!
Here in Minnesota, our gardening season is short and we love our home grown veggies. Even for those who don't have a garden, we have an abundance of farmers markets to purchase fresh Tomatoes and Lettuce from during our summer months.
Get back to the basics every once in a while and create a dish to showcase one or two special items. Try this Pasta version of a BLT and you will see how easy it is to prepare.
We don't like to spend all our time in the kitchen when we have nice weather here in Minnesota. Our warm weather seasons are sometimes very short so we need to enjoy every minute of our warm weather and this recipe will help you do just that!
BLT PASTA SALAD 
Ingredients:
1 Pound Thick Cut Bacon, cooked and cut into bite size pieces
12 Ounces Fusili Pasta
3/4 Cup Mayo
1 pint Grape Tomatoes, cut in half
3 Cups Green Leaf Lettuce, chopped and loosely packed
3 Tablespoons Milk or Half & Half
Freshly Ground Black Pepper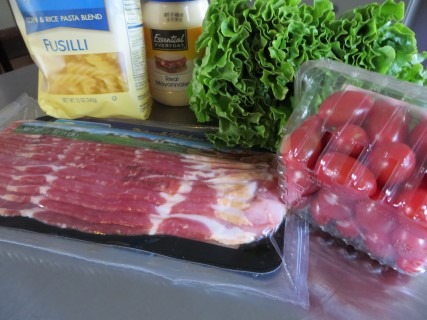 Directions:
1. Prepare Pasta according to package directions. Drain and run under cold water until cool. Set aside.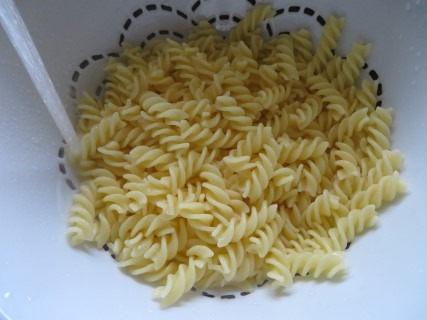 2. In a small bowl whisk together the Mayo and Milk. We are adding the Milk to thin the Mayo out slightly so it distributes better amongst the ingredients. Give your Pepper mill a few good turns over the Mayo mixture and whisk it in until the dressing is smooth.
3. Place the cooled Pasta in a large bowl. Add the Tomatoes, Bacon and Mayo mixture. Fold all together using a spatula.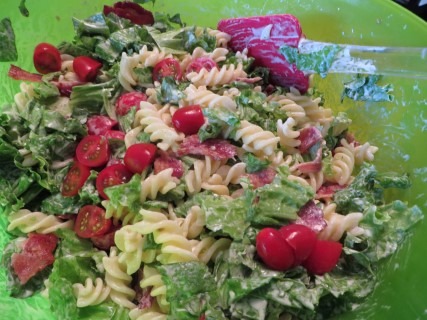 4. Give your Pepper mill another few good turns over all the ingredients and stir. Place the Pasta Salad in a covered container and chill for 30-40 minutes prior to serving.
Recipe by: Hot Dish Homemaker