Bacon Basil Wrapped Shrimp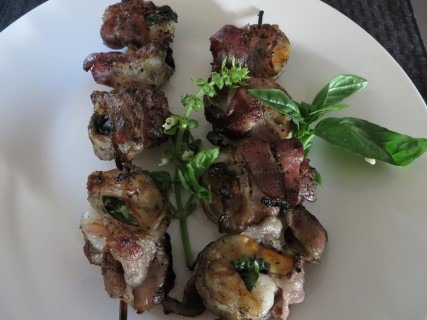 These Skewers are fabulous on the grill!
The flavor combination is excellent and all you need is a little Remoulade Dipping Sauce and you have a great appetizer or entrée.
Here is how you make them:
BACON BASIL WRAPPED SHRIMP 
1 LB. Raw Shrimp, peeled-deveined-tail off (I used 16/20 size. I wouldn't go any smaller than that but you can always get a larger size Shrimp)
16-20 Large Basil Leaves
8-10 Bacon Slices, cut in half
1 Large Lemon
Directions:
1. Soak 12 wooden or bamboo skewers in water for 2 hours prior to use. You won't use them all but I always soak extra in case you get a bad one in the bunch.
2. Place Shrimp in a glass bowl and squeeze the Lemon over the Shrimp. Stir well to coat, cover the bowl and place in the refrigerator for at least 30 minutes before use.
3. Time to assemble the Skewers. Wrap a Basil Leaf around the Shrimp first, then follow with a Bacon Strip. Be sure the ends of the Bacon Strip come together so you can get both ends pierced through the skewer to hold it in place. Put 4 wrapped Shrimp on each skewer. Here is a picture so you can see how the Shrimp should be placed on the skewer.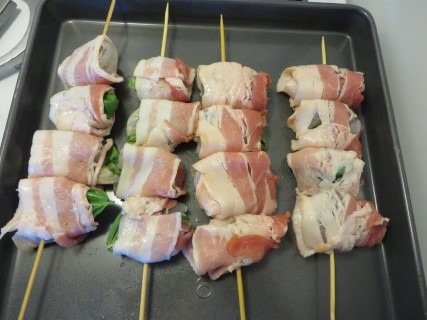 4. Heat your gas grill on High. When ready, place the Shrimp Skewers on the grill, then reduce the heat to medium. You need to watch the Skewers closely because Bacon can flare up easily and you don't want your Bacon to burn. Try to keep the Skewers off the direct flame to prevent the Bacon from flaring up. Cook the Skewers for about 4 minutes per side, turning them several times while cooking.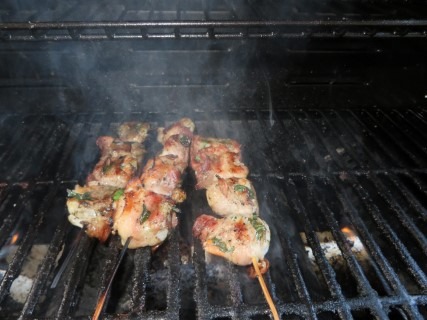 5. During the grilling process, it is best to stay close by and keep an eye on the Bacon Basil Wrapped Shrimp as it is cooking. You will know they are done when the Shrimp turns pink in color and the bacon has browned a bit.
6. Remove the Skewers from the grill and serve with Fresh Lemon Wedges and a nice Remoulade Sauce.
Recipe by: Hot Dish Homemaker