Asparagus Wrapped In Phyllo Dough Recipe
This is a great way to serve Asparagus.
The flaky texture from the Phyllo Dough combined with the accent of Parmesan Cheese, makes this a perfect side dish!
These are sure to be a hit at your next dinner party! This is also a great way to get kids to eat Asparagus.
ASPARAGUS WRAPPED IN PHYLLO DOUGH RECIPE
Ingredients:
18- Asparagus Spears, (try to get thin spears)
6- Phyllo Dough Sheets,thawed
1/2 Cup Butter, melted
3/4 Cup Finely Shredded Parmesan Cheese
Directions:
1. Preheat oven to 375 degrees.
2. Trim the ends of the Asparagus Spears, and set aside.
3. Unwrap the Phyllo Dough Sheets and cover with a slightly dampened towel. They can dry out quickly so they need to be covered.
4. Lay one Phyllo Dough sheet on your work surface, lightly brush with the Melted Butter then sprinkle with about 1/2 tablespoon of the Parmesan Cheese. Lay a second sheet on top of the first sheet and also brush with the Melted Butter and sprinkle with Parmesan Cheese.
5. Take 3 Asparagus Spears and lay them on the short end of the Pyllo Dough Sheets, then roll the Asparagus up in the Phyllo Dough tightly, but be careful handling the Phyllo Dough, it is delicate and can tear.  Lay the wrapped Asparagus Spears, seam side down, onto a baking sheet and brush the top with the Melted Butter and sprinkle the top with a bit more Parmesan Cheese. Continue this process with the remaining Asparagus.
6. Bake the wrapped Asparagus for about 15-20 minutes or until the top is golden brown. All ovens cook differently so check at the 15 minute mark and add more time if you need to.
~Serve immediately! I sometimes cut mine in half prior to serving, as seen in the top picture or you can leave them whole as you see here.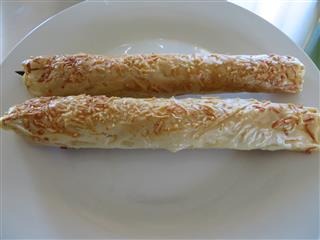 Enjoy!
Recipe by: Hot Dish Homemaker